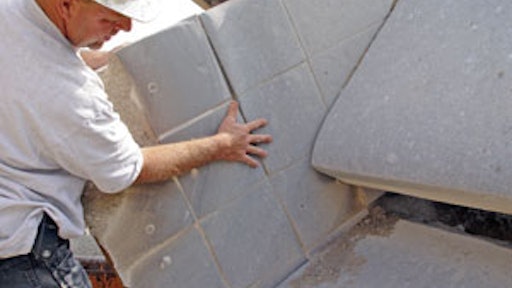 Proper maintenance practices should be a major part of every crushing operation. But don't become paranoid and overdo it. Excessive maintenance can actually create more problems than it solves.
Experienced crushing professionals offer their views on maintenance of horizontal impactor plants.
Invest in quality, then maintain it
Thompson Recycle, Tecumseh, MI, crushes about 95% asphalt rubble using an electric motor-powered Grasan road-portable crushing plant with a Hazemag 1515 APSE horizontal-shaft impactor.
"We run our crushing operations from March 15 through December 15," says John Thompson, president. "We've been in business for about nine and a half years and have moved from one site to another more than 500 times. We've crushed about 14 million tons of asphalt rubble, and our plant is still solid, efficient, dependable and runs like a top."
Thompson believes two elements are crucial to achieving this kind of performance. "First, get a top-quality crushing plant designed for your specific needs. Second, establish a sensible maintenance and repair schedule and stick to it," he advises.
According to most manufacturers, a quality crusher will last 10 to 15 years. But if properly maintained, Thompson believes you can expect a lot longer life. "I look to get 20 to 25 years from my impactor plant," he says.
Investing in wear items and pulling the equipment down for periodic service is critical. "Without proper maintenance, you can ruin a good crusher in six weeks to six months," says Thompson.
Consider blow bar replacement. "If you don't replace your blow bars on time, you can end up spending big bucks on a new rotor before long," Thompson points out. "Material being crushed can eat away the rotor surface if the blow bars are worn too low."
Daily and weekly preventive maintenance allows Thompson Recycle to keep plants running continually. "We can't afford breakdowns, and we have practically none," says Thompson. "We run 24 hours a day in two 12-hour shifts, six days a week, with a seven-man crew, including me. At the start of each shift, we check over the entire plant, make any adjustments and make note of the condition of major wear parts."
Because plants are moved frequently throughout the work year, the company tries to replace wear parts when it shuts down for a move. "We're productive about 73% of the time," Thompson notes. "The rest is for maintenance and moving."
Two blow bars and two dummy bars are used for balance and to protect the rotor. "We turn the blow bars about every 20,000 to 25,000 tons. So we get about 80,000 to 100,000 tons before blow bar replacement. We get about 700,000 tons per turn on the mono-block apron, and about 200,000 tons on the apron rear impact plates before the edge is worn off," says Thompson. "We also replace all other wear parts regularly, including side liners, rotor shoes, manganese apron and apron blocks, impact plates, seals and so on."
A three-pronged approach
Complete Resources, Columbus, OH, is a contract crushing company that processes concrete and asphalt rubble and aggregates with several diesel-powered Grasan road-portable and pit-portable impactor plants.
"We have a three-pronged approach to maintenance and downtime prevention," says Butch Cherrington, vice president. "First, we make the plant operator responsible for regular equipment maintenance. In our case, that person is the foreman. Second, we employ several full-time mechanic-welders who take care of heavy and non-scheduled repairs. Third, we try to perform maintenance as much as possible when moving equipment from one crushing site to another."
According to Cherrington, a balance needs to be struck between running the plants until they break and maintaining them as good as new, neither of which is profitable. "If left up to production people, plants would be run into the ground in short order," he notes. "If my maintenance people had the say, I would have plants in 'as new' condition, but I could not afford to operate them."
With diesel-powered units, make sure connections between the engine and air cleaner are tight. "Run a duct from the air intake to a clean area 20 or 30 ft. away - maybe more, if necessary," says Cherrington. "Dust ingestion is a big problem. Without proper filtration, you can ruin an engine in days or even hours."
Cherrington also emphasizes the importance of oil analysis. "An oil sample analysis program can save you a lot of engine grief," he states. "The analysis will expose air cleaner problems by identifying high silica content or other contaminants in the oil. We have virtually no unexpected engine downtime."
Of course, you could go with an electric motor instead of diesel to eliminate the risk of dust damage. "But you have to change pulley sheaves to change speeds. Diesel power gives you instant speed variation," says Cherrington.
Keeping common wear parts on hand will help to avoid delays when it's time for replacement. "We're usually into the crusher once a week to check on whether blow bars or liners need replacement, and whether anything else needs to be done," Cherrington notes. "When we change blow bars, we generally also change liners if they're fairly worn, so we won't have to shut down again soon. Leaving a little metal on the liner is less costly than another shut down."
While maintenance is important, Cherrington cautions against overdoing it. "Don't over-grease shaft bearings on your plant," he says. "Too much grease causes the bearings to overheat. Big bearings don't require as much grease as most people seem to think. Just follow the manufacturer's schedule - no more, no less."
Cherrington has found that turning the gearbox of stacking conveyors upside down for travel allows sediment and pieces of metal to fall down into the gears. "Until we figured this out, gearbox failures were a huge problem. Regular oil changes have eliminated it," he says.
Overall, Cherrington feels his company has a unique attitude when it comes to maintaining equipment. "We have no 'official directives' regarding maintenance - just smart people who need not be afraid to shut down to fix something that isn't totally broken," he says. "Scheduled downtime isn't really downtime. Downtime is when equipment isn't running outside of scheduled maintenance."
No skimping
Weber Sand & Gravel, Lake Orion, MI, is a family-owned company formed in 1946. Contract crushing is a big part of its business. The company utilizes a custom-designed, diesel-powered Grasan KRH1515 primary impact crusher plant with an automatic hydraulic cylinder system.
Scott Weber, vice president, runs the crushing division, which operates from mid-March through mid-December. "We can crush as much as 900 tph of limestone or concrete rubble down to 1" x 3", or 500 tph of asphalt down to 5/8-in. minus while using only two blow bars of the possible four," he says.
The crushing operation includes the crusher plant, screening plant, return conveyor, radial stackers and a 30-ft. trailer with generator and controls. Weber Sand & Gravel is able to blow the equipment clean, move it 50 miles to a new site and be crushing again in about 12 hours.
"We pride ourselves on our production efficiency," says Weber. "Unplanned downtime is out of the question. So skimping on maintenance is equally out of the question."
The entire plant is inspected daily. Special attention is paid to the impactor, including checking the rotor, blow bars and side liners. "We adjust the aprons every day," says Weber. "And we change wear parts when needed, not when convenient."
When crushing concrete, the company normally uses high chrome blow bars, which are turned roughly every 25,000 tons, generating 100,000 tons before replacement. Manganese bars are used for limestone or for concrete in some situations. "Manganese is softer than high chrome; it's more 'forgiving' so the bars are less likely to break," says Weber. "But they do wear down faster, and we have to turn them more often."
For asphalt, high chrome bars are used. These are usually turned at 15,000 to 20,000 tons, depending on the material. "We replace blow bars when they're down to 1 1/4 in. from the rotor surface," Weber notes. "Some operators let their bars run down lower than that, but I don't advise it."
It's generally pretty obvious when a blow bar breaks because it throws the rotor out of balance. "But you might not notice it if just a small piece of the blow bar breaks away, such as at the extreme end. If this happens, the rotor can be damaged by incoming material hitting the rotor instead of the blow bar," Weber says. "That's why it's important to check inside the crusher at the start of every shift."
Weber Sand & Gravel uses two blow bars out of the possible four for crushing. "We've found that using two bars in a four-bar rotor gives us the combination of production efficiency and cost effectiveness that we need for our type of operation," says Weber.
Due to the speed of the rotor, the high bars impact the incoming material to be crushed, and very little hits the low bars. "When the high bars wear down to about the level of the low bars, we remove the most worn set and install new high blow bars. The worn-down bars now act as the dummies," Weber explains.
Another important wear part is the side liner. As a rule, Weber Sand & Gravel turns side liners inside the "rotor zone" at about 50,000 to 75,000 tons. "As the rotor spins, it creates a circular wear pattern on the two side walls caused by crushed material getting between the wall and side of the rotor," Weber notes. "The wear pattern usually is such that you can unbolt the plates, turn them 90° to 180° and keep using them, rather than replace them at that time. The wear plates outside the rotor zone will last longer and sometimes can be switched with rotor zone plates to get longer life from the whole set."
Each of the company's impact crushers utilizes four interchangeable aprons. This allows fewer spare aprons to be stocked and helps keep the parts inventory lower.
Like Cherrington, Weber cautions against over greasing. "It's wasteful and can cause harm if you over-grease the bearings anywhere on your plant. It causes them to overheat and wear out faster," he states. "We give all bearings (except the impactor) two to three pumps of grease in mid-March when we begin our crushing season, and again in mid-September. We grease the impactor every 40 hours."
In some cases, you can reduce downtime by custom designing certain aspects of the plant. "For example, I had Grasan engineer the crushing and screening plants with quick-disconnect pins instead of bolts for almost anything we have to dismantle or take off for over-the-road travel," says Weber. "That saves a lot of time and hassle. It takes longer to work with bolts. The threads get worn after a while so the bolts need to be replaced, and it's easy to lose a nut or washer. The pins are quick, simple and chained to the equipment so you won't lose them."
Information for this article was provided by Grasan.
Companies in this article