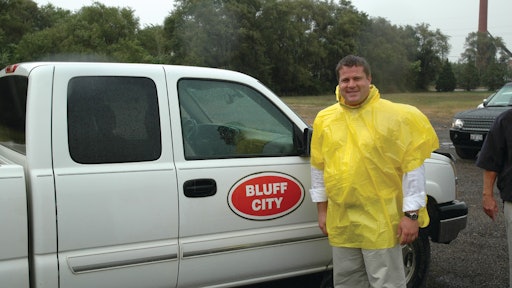 Bluff City Materials, based in Barlett, Illinois, has a long history in the Chicago market. "We started in underground construction, including putting utilities in the ground," says Matt Vondra, Vice President, Bluff City Materials. "Our company evolved into construction materials recycling and excavation. It then dovetailed into mining and mine reclamation work.
"Today Bluff City Materials is a mining and recycling business," says Vondra. The company operates recycling and construction materials handling facilities in and around the city of Chicago. "This is how we grew into Recycled Asphalt Shingles [RAS]," he adds. "We have an asphalt plant and were trying to make the most economical hot-mix asphalt. With our experience in recycling, we decided to partake in a joint venture recycling asphalt shingles." This joint venture resulted in Southwind RAS, LLC.
A proactive approach
Besides the economic benefits, there is a tremendous environmental benefit to RAS. "The number of times it reduces the carbon footprint is a quadratic equation," explains Vondra.
When shingles are added to asphalt, it reduces the cost and saves on oil. Prior to the formation of Southwind RAS, there were virtually no applications of RAS in the state. "Illinois was an underdeveloped market for recycled asphalt shingles," says Vondra. "So we tried to stay a step ahead of the market."
The first step was for RAS to be written into the Illinois Department of Transportation (IDOT) spec. After a concerted effort, this was accomplished in October. "By the beginning of paving next year, we will be in all of the specs from Chicago through the central Illinois state districts," says Vondra.
Early pilot projects helped. "The first was about 18 months ago," says Vondra. It was the first time the contractor had used RAS mix, and it was the first time the RAS mix had been placed in the city of Elgin. Since this was a first attempt, there was a learning curve, but the final product is holding up. "There is a little reflective cracking, but it was a learning process," he notes.
Going forward, Illinois developed many incentives that encourage continued growth of the RAS mix, including a recycling law that increases the amount of credit that people receive for recycling shingles. It also advocates IDOT to use warm-mix asphalt, which secures the most economical mix for both contractors and taxpayers.
On another recent project, warm mix was transported about an hour and 20 minutes to a site located 50 miles from the plant. The whole site was paved with RAS warm mix and the base materials were recycled from the Eisenhower Expressway.
Developing a shingle source
In order to produce RAS mix, a steady supply of shingles is necessary. In the early days this came from shingle manufacturers. "RAS started with manufacturer scrap," explains Vondra, "but because of the limited volume of manufacturer scrap, we decided on the tear-off side of the business, which is more complicated."
Shingles from reroofing projects are delivered to processing centers. Customers pay a fee to deliver shingles to Southwind RAS. "We charge disposal fees," explains Vondra. "Essentially customers pay us instead of a landfill. The fees are less than half those at a landfill and customers don't have to pay environmental assessments."
The fees help offset the cost of processing the shingles. "It is a capital intensive business," says Vondra. The company has invested in five facilities around Chicago with five additional facilities in Rockford and Peoria.
Before the shingles can be used, they must be tested for quality and the presence of asbestos. Southwind RAS tests for Asbestos Containing Material (ACM), using an independent National Institute of Standards and Technology (NIST) accredited lab and several third-party, DOT-certified aggregate testing labs.
Asbestos has not yet posed a problem. "An Illinois Department of Public Health certified inspector examines inbound loads and takes representative samples. Those samples are sent to a lab before the shingles are incorporated into our feed material. We have not had one detection of asbestos," he says.
Shingles also need to be cleaned prior to processing and there is income potential in this process. "The nails are almost more valuable than the oil," says Vondra. "A special magnet is required to pull them out, and those nails are recycled for several hundred dollars a ton."
Not all contaminants can be removed as easily. Sorting shingles is a laborious process. "An employee must stand next to a conveyor belt removing plastic, wood and anything that is not roofing," says Vondra.
There is the expense of grinding the shingles. The company's RG-I Rotochopper shingle grinders, powered by Caterpillar engines, are custom-made for grinding shingles. This keeps the RAS in spec and ensures a consistent gradation. The abrasive nature of the shingles creates a lot of wear on the grinder, and maintenance is something that must be performed regularly.
In addition, the stockpiles of material must be worked over (Southwind RAS uses Caterpillar loaders) prior to loading in the grinders to prevent clumping of the shingles.
Looking ahead
As the state begins to use the new mix spec, the future for RAS mix in Illinois looks bright. One high-profile project already on the board is the "Green Mile" in the city of Chicago. "In addition, the state plans to use RAS on the resurfacing of Michigan Avenue," says Vondra.
The mix is called Stone Matrix Asphalt (SMA) which is an 80% course and 20% fine mix. This will be mixed with the RAS. "It is a technology used frequently in Europe," he explains. "It's quieter, more stable and very durable. It has many good properties to it, including being high friction and high loading."
The prospects for other paving projects also look promising. "Now that we are a little past the learning curve, people are becoming more interested in using RAS mix as opposed to a pilot project," he notes. "The day-to-day use has really started to pick up."
One of the keys to success hinges on training the paving companies about RAS. "Contractors need to understand what they are working with," concludes Vondra. "Paving companies are already experts at paving; they just need to understand the unique characteristics of RAS material."