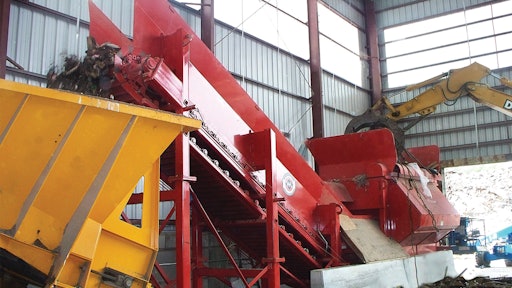 These days contractors are squeezed from every angle. Intense competition for available work erodes margins, materials and fuel costs continue to escalate and uncertainty still clouds the future. To succeed you must carefully scrutinize every aspect of your business and differentiate your offerings.
In this environment, recycling continues to gain traction. There are viable markets for recycled products ranging from asphalt shingles to concrete, asphalt and wood. The trick is to identify the potential revenue streams and then calculate the costs of the equipment and labor required to turn the waste stream into a sellable product. You must carefully weigh the risk versus rewards, but many contractors have already proven that materials once headed to the landfill can actually be converted into profitable products that are more environmentally sensible.

One-stop shop

Nashville, TN-based Demo Plus was named 2009 subcontractor of the year for projects under $250,000 by the Associated General Contractors (AGC). The company provides a turnkey approach that includes assessment, abatement, demolition and recycling of a project from a single source. Up to 85% of the debris from its demolition sites is salvaged. The company recycles and cleans old brick to re-use in construction as well as salvaging ferrous and non-ferrous metals, wood, ACT (acoustic ceiling tiles) and even carpet.
"Our business separates between architectural, structural demolition and abatement," says Steve Cline, owner. "We also perform environmental consulting which starts early in a project. Once the material is identified, we start the asbestos and lead-based paint removal as needed prior to the demolition project. To top it off we are able to do the waste hauling and recycling without the need of multiple subs. We are a full stream process."
Demo Plus was already trying to salvage as many of the recycled items as it could from its demolition projects before debris was hauled to the landfill. "This led to the development of a waste hauling container service as well as our C&D recycling facility, Earth First C&D Recycling," says Cline.
Creating a recycling business further extended the one-stop shop approach. "We have one sorting facility today and we are in the middle of building a second facility," says Cline. " The company made an investment in roll-off containers to help facilitate a steady flow of C&D debris. "We run 170 roll-off containers with our own fleet of roll-off trucks."
Contractors can pay Earth First to collect their construction and demolition debris with their roll-off container service. In exchange they can earn valuable LEED points for their projects. "Recycling does have cost to it," says Cline. "You are paying similar to a landfill rate, but instead of the process of compacting it in a landfill the process is able to recycle the material. As long as you can be competitive does it really make sense to landfill versus being able to recycle and reuse in today's world?"
Currently the most profitable demolition debris is metal. "Everybody is always after metals," says Cline. "Cardboard is probably second." But he has found many other revenue streams for recycled material and is always looking for more. "We sell wood to either a biofuel facility for them to burn as a boiler fuel or we sell it to another company that makes colored mulch out of it."
The company even recycles old bricks. These bricks are taken to an off-site facility to be cleaned, stacked and palletized. "It is all done by hand," says Cline. "It is very labor intensive to take bricks and literally knock the mortar off one from the other. One guy should be able to shuck 2,000 to 3,000 bricks a day."
Cline refused to comment on a couple of other products under development, but he acknowledges that there will be other revenue streams in the near future. "I would love to take zero to the landfill, but I know that is impossible."
When setting up a recycling operation you must realize that there is no such thing as a one-size-fits all approach. You really need to study and understand your local markets to determine which products will be easier to sell in your market.
For instance, Nashville is in the heart of one of the aggregate capitals of the world. "Every place you turn around you have quarries." This would make it very difficult to sell crushed concrete as aggregate. "Every market is different." Just because you do it in one market doesn't mean it is feasible in another market.

A business transformation

Robesonia, PA-based W.D. Zwicky & Son, Inc. began in the excavating business over 30 years ago. But the company has transitioned into land clearing and demolition work, with an emphasis on its recycling operations – Zwicky Processing and Recycling Inc.
"In the early 1980s we started recycling," says Dave Zwicky, owner. "That grew as a spin-off from the excavating business." As land became more valuable, owners didn't want stumps buried on the jobsite. "So we started taking the stumps home to the farm. As our first recycling activity we started out grinding tree stumps.
This ended up being processed into mulch. First the company began working with an outside vendor to transform the ground stumps into mulch, but eventually Zwicky began to grind his own mulch. This required an investment in capable grinders. "Everybody says you are crazy when you start brining home this equipment to grind tree stumps, but we have actually never missed a day grinding since we started," says Zwicky.
"Our first equipment was from Morbark," recalls Zwicky. Due to the design of the early equipment, there were a few challenges. "Rocks and fence posts and those kinds of things were a bit of a challenge." So Zwicky approached Morbark for help. "We had to find out how to make it do what we wanted it to do. They were receptive to a lot of the ideas. As the equipment started to improve and change we started getting real active in what we were doing. We grew with Morbark as they grew with the ideas and the technology."
Recycling places stringent demands on the equipment. "We have to look for machines that are built to do the job," says Zwicky. "What we do is very abrasive. We have a grinder down there that every once and a while we get a manhole cover in it. It is a special machine for C&D recycling." This grinder was the result of close collaboration between Zwicky and Morbark and it was released at ConExpo.
Currently Zwicky owns 22 grinders – a combination of slow speeds, tubs and horizontals. "We have screening plants. We have a lot of magnets. All together we have 122 pieces of motorized equipment if you count our trucks, grinders, bull dozers, front-end loaders, excavators, wheel loaders and screens." Much of this equipment is used to carefully manage stockpiles on the company's three sites. The largest of these sites is 140 acres, with an additional 45-acre site and a 25-acre site.
The products produced by Zwicky Processing and Recycling Inc. are diverse and continue to expand. "As a company, our goal is to be leading the way in recycling because we sincerely believe that everything has a use," says Zwicky. "Last year we recycled about 270,000 tons of material
Currently, 97%of the materials that pass through the operation are recycled. This includes C&D, concrete, brick, block and plastic. Zwicky is an innovator who is always on the lookout for new products that can be developed from the existing product stream. "It is obvious by what we do, nothing is really a waste. Everything is a commodity. We don't look at the stuff that comes into us as a waste. We feel good about diverting it from a landfill, but it is a commodity for us."
The company has even developed products for traditionally difficult products such as gypsum board. "I recycle it and it goes into ag products," says Zwicky. "You can use the gypsum as a substitute for lime to help balance the PH in the soil. The paper makes a really good bedding in the barn." There is 3% of the recycling stream that is not practical to recover.
"The process is mechanized, but we still have employees," says Zwicky. "We do a hand separation as well as a mechanical separation. We run five 12-hour days working. We used to run two full lines. We actually ran the separation system 20 hours a day, but we put that down to 12 hours a day, five days a week. We have 68 employees full time."
Material sourcing has not been an issue. There are incentives for working with Zwicky Processing & Recycling, including the ability to earn LEED credits, "Most of it comes in from other people's roll-offs and we get a lot out of transfer stations," says Zwicky. "Some comes in pre-sorted. Some comes in unsorted. We will tap into anybody who has material that we could use that wants to work with us. We do quantity pricing and pre-sorted pricing. We work with who are generators are. We actually have a waiting list of people that want to bring stuff into us. Our limit is we have to be able to justify taking it in so we can do something with it and put it back out."

RAS creates opportunity

Bluff City Materials, based in Barlett, Illinois, has a long history in the Chicago market. "We started in underground construction, including putting utilities in the ground," says Matt Vondra, Vice President, Bluff City Materials. "Our company evolved into construction materials recycling and excavation. It then dovetailed into mining and mine reclamation work.
"Today the company operates recycling and construction materials handling facilities in and around the city of Chicago. "This is how we grew into Recycled Asphalt Shingles [RAS]," Vondra adds. "We have an asphalt plant and were trying to make the most economical hot-mix asphalt. With our experience in recycling, we decided to partake in a joint venture recycling asphalt shingles." This joint venture resulted in Southwind RAS, LLC.
Besides the economic benefits, there is a tremendous environmental benefit to RAS. "The number of times it reduces the carbon footprint is a quadratic equation," explains Vondra.
When shingles are added to asphalt, it reduces the cost and saves on oil. Prior to the formation of Southwind RAS, there were virtually no applications of RAS in the state. "Illinois was an underdeveloped market for recycled asphalt shingles," says Vondra. "So we tried to stay a step ahead of the market."
The first step was for RAS to be written into the Illinois Department of Transportation (IDOT) spec. After a concerted effort, this was accomplished in October. "By the beginning of paving next year, we will be in all of the specs from Chicago through the central Illinois state districts," says Vondra.
Early pilot projects helped. "The first was about 18 months ago," says Vondra. It was the first time the contractor had used RAS mix, and it was the first time the RAS mix had been placed in the city of Elgin. Since this was a first attempt, there was a learning curve, but the final product is holding up. "There is a little reflective cracking, but it was a learning process," he notes.
Going forward, Illinois developed many incentives that encourage continued growth of the RAS mix, including a recycling law that increases the amount of credit that people receive for recycling shingles. It also advocates IDOT to use warm-mix asphalt, which secures the most economical mix for both contractors and taxpayers.
On another recent project, warm mix was transported about an hour and 20 minutes to a site located 50 miles from the plant. The whole site was paved with RAS warm mix and the base materials were recycled from the Eisenhower Expressway.
Identify a shingle source
In order to produce RAS mix, a steady supply of shingles is necessary. In the early days this came from shingle manufacturers. "RAS started with manufacturer scrap," explains Vondra, "but because of the limited volume of manufacturer scrap, we decided on the tear-off side of the business, which is more complicated."
In order to collect enough shingles to justify a recycling effort and the associated investment in specialized equipment, you need to be near an urban environment. "It is a population-based statistic," explains Vondra. "
Supply is simply a numbers game. "It's a pretty stable business because of the way roofing shingles wear," he notes. "Almost all houses have asphalt roofing shingles. As they are going on, they are coming off. For every 30,000 people, there is a certain number of roofs that will come off every year.
"Last year in Chicago we recycled about 40,000 roofs," Vondra recalls. "We have recycled about 1,200 roofs in Peoria." Two RG-I Rotochopper shingle grinders currently handle this workload. One is dedicated to Chicago. The other is stationed in Rockford and is moved to Peoria after enough material has been accumulated to grind.
Shingles from reroofing projects are delivered to processing centers. Customers pay a fee to deliver shingles to Southwind RAS. "We charge disposal fees," explains Vondra. "Essentially customers pay us instead of a landfill. The fees are less than half those at a landfill and customers don't have to pay environmental assessments."
The fees help offset the cost of processing the shingles. "It is a capital intensive business," says Vondra. The company has invested in five facilities around Chicago with five additional facilities in Rockford and Peoria.
Before the shingles can be used, they must be tested for quality and the presence of asbestos. Southwind RAS tests for Asbestos Containing Material (ACM), using an independent National Institute of Standards and Technology (NIST) accredited lab and several third-party, DOT-certified aggregate testing labs.
Asbestos has not yet posed a problem. "An Illinois Department of Public Health certified inspector examines inbound loads and takes representative samples. Those samples are sent to a lab before the shingles are incorporated into our feed material. We have not had one detection of asbestos," he says.
Shingles also need to be cleaned prior to processing and there is income potential in this process. "The nails are almost more valuable than the oil," says Vondra. "A special magnet is required to pull them out, and those nails are recycled for several hundred dollars a ton."
Not all contaminants can be removed as easily. Sorting shingles is a laborious process. "An employee must stand next to a conveyor belt removing plastic, wood and anything that is not roofing," says Vondra.
There is the expense of grinding the shingles. The company's RG-I Rotochopper shingle grinders, powered by Caterpillar engines, are custom-made for grinding shingles. This keeps the RAS in spec and ensures a consistent gradation. The abrasive nature of the shingles creates a lot of wear on the grinder, and maintenance is something that must be performed regularly.
In addition, the stockpiles of material must be worked over prior to loading in the grinders to prevent clumping of the shingles.
As the state begins to use the new mix spec, the future for RAS mix in Illinois looks bright. One high-profile project already on the board is the "Green Mile" in the city of Chicago. "In addition, the state plans to use RAS on the resurfacing of Michigan Avenue," says Vondra.
The prospects for other paving projects also look promising. "Now that we are a little past the learning curve, people are becoming more interested in using RAS mix as opposed to a pilot project," he notes. "The day-to-day use has really started to pick up."
Companies in this article