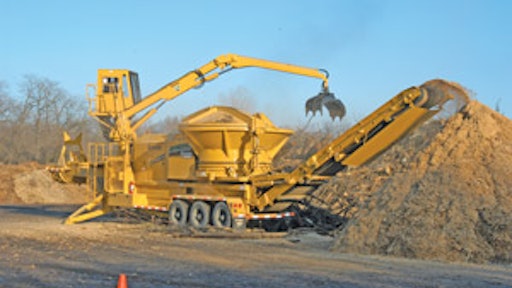 Vermeer TG5000 Tub Grinder
The TG5000 is available with a 440- or 540-hp Caterpillar six-cylinder, turbocharged Tier III diesel engine.
60-in. deep and 12-ft. flared tub opening for easy loading of large material volumes
Duplex Drum with eight angled hammers cutting 16 radial paths
Thrown Object Restraint System

• Push-button engagement of clutch via remote, cab or ground control station

Single continuous-flow 36-in. V-cleat discharge belt
Jones Tub Grinders
Jones Mfg. Co. offers three portable tub grinder models.
Quick setup and take down
Hydraulically opening tub for easy screen and hammer changes
Swinging belt conveyor
Tub speed electronically controlled to maintain engine speed
Morbark Model 1600 Tub Grinder
The Model 1600 can grind up to 10-ft. stumps with its nearly 6-ft.-long hammermill.
Base diameter measures 11 ft. 2 in. with a 20-cu.-yd. tub capacity
Can easily be fed with a 13-yd. bucket
Discharge system features a 60-in.-wide belt
Changes from the standard 12-hammer pattern to a 30-hammer pattern in only an hour
Three-auger system
Diamond Z DZT 8000 Tub Grinder
The 75,000-lb. DZT 8000 tub grinder has a short, compact and durable design that maximizes on-site mobility and stability.
Heavy-duty, one-piece frame
Aggressive 60-in. hammermill allows for production capacities of up to 95 to 100 tph
Improved deflector and containment shields minimize throwing debris
Extended work platform for maintenance accessibility
Peterson 6710B Horizontal Grinder
The 6710B track-mounted horizontal grinder is powered by a 1,000-hp Caterpillar 3412E diesel engine.
50" x 66" feed opening
Production volumes up to 625 cu. yds. per hour
Adaptive Control System II variable-speed automatic feed system
Three-stage grinding process
Quick-change multiple grate system
Bandit Model 3680 Beast Waste Recycler
The Model 3680 Beast Recycler processes 400 yds. or more per hour.
33" x 60" mill opening
Engine options range from 385 to 700 hp
Can be easily transported from one job to the next
Can process asphalt, shingles, logs, brush, pallets, housing demolition and other materials