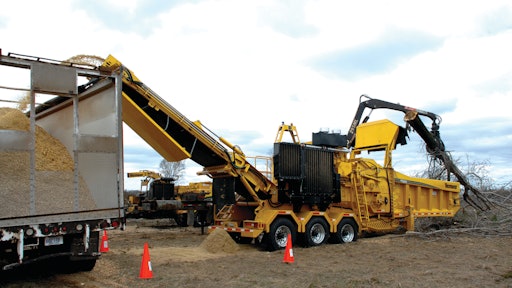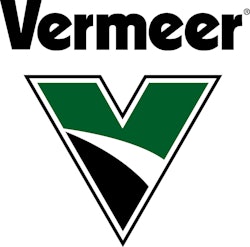 Vermeer redesigned several productivity features of its HG6000  when it reworked the horizontal grinder to accommodate an engine satisfying Tier 4 Interim/Stage IIIB emissions regulations. The new Caterpillar C18 diesel engine makes 755 hp, a 20% increase over the previous engine.
Dual screens can be mixed and matched to make the desired end product. Screens are reversible and interchangeable for maximum wear life, and the screen support can be adjusted so that the distance betwen the screens and the hammer tips can reflect the material being processed.
Vermeer eliminated the transition area between the anvil and screen, increasing screen area on the HG6000 by 20% percent. The operator can reverse the feed roller independently of the feed table to reposition irregular material as it enters the hammermill. Feed roller hydraulic down pressure can be applied via the remote control.
Vermeer's SmartGrind system stops and reverses material feed into the hammermill when engine speed drops below a preset level.
A single-piece 48-inch wide belly and discharge conveyor belt eliminates the transition point from belly to load-out, helping to reduce some plugging or bridging.
The thrown object deflector (TOD) is designed to reduce the quantity and distance of thrown material. The TOD can be temporarily raised to simplify loading over-length or bulky material.
Series II duplex drum hammermill consists of 10 hammers and 20 cutter blocks
Mill has 36.4-in. cutter tip diameter and 62-in. cutting width
Cutter blocks, hammers and center section of drum are reversible
Hardware securing the anvil is outside the machine, away from the wear path of material
Request More Information
Fill out the form below to request more information about
HG6000 Horizontal Grinder