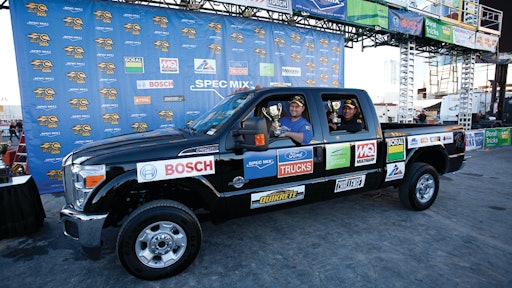 With international teams competing in the 2012 Spec Mix Bricklayer 500 last week at World of Concrete, the national competition decides who is the world's best bricklayer. Mason Leif Reints and tender Gustavo Soriano from Missouri took first place overall with 583 brick laid.
World of Concrete/World of Masonry claims to be the largest annual construction trade show in the world, and the 2012 Bricklayer 500 National is a bricklaying competition comprised of the best bricklayers in the world. The largest field ever – 21 two-man teams made up of a mason and mason tender – competed to lay the most brick in 60 minutes, building a 26-ft. 8-in., double-wythe brick wall meeting strictly defined quality standards.
The competition has four awards: first, second and third place are based on the highest brick count meeting the quality standards. The fourth award, and arguably most coveted prize, is the Spec Mix Top Craftsman, named by judges selecting the most sellable wall with the most brick. The walls are closely evaluated by 27 carefully selected masonry officials averaging 20 years of bricklaying experience.
The 2012 competition had the largest winner's purse of any masonry competition. Winners walked away with well over $100,000 in cash and prizes.
First place winner, Leif Reints, age 31, a mason with Reints Masonry, Neosho, Mo., was declared World's Best Bricklayer, with 583 bricks laid in just sixty minutes. Leif won a fully loaded 2012 Ford F250 XLT CrewCab 4x4 pickup truck and $5,000 in cash, a Stihl TS420 A-EWC Cutquik cut-off saw and thousands in additional sponsor prizes.
It was Reints' and Soriano's first time in the winner's circle at the Bricklayer 500 National, and Reints' second appearance as a national competitor.
The Bricklayer 500 Top Craftsman award was given to mason Scott Tuttle, age 36, of Quik Trowell Masonry, Clearfield, Utah. Tuttle laid 474 bricks. The combined brick count and quality of his wall was judged the "most sellable." Scott's tender was Brian Tuttle of Clearfield, Utah. Dave went home with $5,000 in cash, a Multiquip EM120S mixer, a Stihl TS420 A-EWC Cutquik cut-off saw and thousands in additional sponsor prizes.
Second Place: Mason Filipe Orfao, age 42, with Squire Masonry, Cookstown, Ont., and tender Manuel Oliveira.
Third Place: Mason Justin Jakubisin, age 31, with Giambrone Masonry, Hudson, Ohio, and tender Aaron Cooke of Brunswick Hills, Ohio.
The Spec Mix Toughest Tender winner was Nick Miller, with Exteriors Plus, Jefferson, Wis. The Toughest Tender is a preliminary event to the Bricklayer 500, pitting tenders to race the clock setting up a defined work area for the mason. Raymond's winning time was 18:00 minutes.
Competitors in the 2012 Bricklayer 500 qualified by the national competition at 16 Regional qualifying competitions held throughout North America.
Truck, cash, and prizes are provided by these 2012 Bricklayer 500 National sponsors:
Platinum Level Sponsors
Spec Mix Inc.
Masonry Construction Online
Ford Trucks
Hydro Mobile
Prism Pigments
Bosch
Quikrete
Boral Brick
Multiquip
Marshalltown Company
Stihl Inc.
Johnson Level
MCAA
Contributor Level Sponsors
GATORBACK Mortarboards
Blaklader Workwear
Building Lime Group
Western Lime
Angelus Block
Safway Scaffold
Jackson Professional Tools
Xtreme Manufacturing
For more details and to view an archive video of the event go to www.specmixbricklayer500.com.
Companies in this article