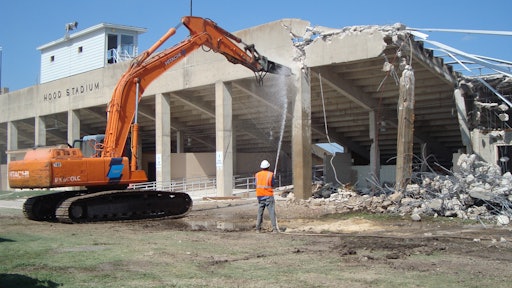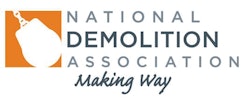 The National Demolition Association (NDA) presented the 2nd annual Environmental Excellence Awards to four companies which have performed demolition projects that demonstrate significant environmental conservation and community improvement, while bringing about a discernible positive impact on the quality of life in the U.S. and Canada.
"The Environmental Excellence Awards recognize NDA member companies which are true leaders in environmental stewardship," said Michael R. Taylor, CAE, executive director of the NDA. 
The winning projects were honored at the National Demolition Association Annual Convention in Las Vegas in March.
Project: Prichard Stadium Sports Complex Demolition, Fort Hood, Texas
NDA Member: Charter Environmental, Boston, Mass.
Charter led abatement and demolition of the 60-year-old Prichard Stadium Sports Complex in Fort Hood which was demolished to make room for a new hospital. The project exceeded the client's recycling goals, reusing or recycling 99.56 percent of the debris. Among the many steps taken during the project was concrete being crushed on site and stockpiled for construction of the new medical center. The stadium lighting fixtures were salvaged for use in a new stadium while telephone poles were reused on the Fort Hood firing range. Materials of value, e.g. copper, aluminum, etc., were recycled and reclaimed while asphalt parking lots were ground and recycled. Funds from recycled materials were used to support and improve the lives of soldiers and their families.
Project: Demolition and Remediation of Newton North High School, Newton, Mass.
NDA Member: Costello Dismantling Co., Inc., West Wareham, Mass.
To make way for athletic fields and grounds adjacent to the new high school, Costello handled the difficult demolition of the former school coupled with a massive environmental remediation scope of work. All interior block walls were asbestos-contaminated, which had permeated the inner cavities of the masonry block walls and settled on top of ceiling tiles. An innovative bracing system that enabled contaminated exterior walls to remain standing and be used as a critical barrier during abatement saved the city millions of dollars in containment expense. More than 75,000 tons of brick and concrete and 4,750 tons of steel were recycled while 1,850 tons of non-asbestos debris was sent for processing/recycling.
Project: Woodside Dam Demolition Project, S.C.
NDA Member: Envirocon, Inc., Portland, Ore.
Envirocon's Woodside Dam demolition project restored the river to its natural state, allowing it to flow freely again over native bedrock for the first time in more than 100 years, and fish and wildlife to flourish. By removing two reinforced concrete dams and PCB-contaminated river sediments, Envirocon is letting the river regenerate itself. The company designed and installed three siphons to lower the water behind the dam so that dredging could take place, which was followed by the demolition of 34-foot-high dam. The second dam removal also required the demolition of the dam powerhouse. Many innovative techniques were employed to complete this project, including the use of a crane to lift and place machinery upon floats in the upstream pool behind the dam.
Project: Sappi Fine Paper Property Project, Muskegon, Mich.
NDA Member: Melching, Inc., Nunica, Mich.
The former 1.1 million square-foot Sappi Fine Paper mill sits on a 119-acre site, with nearly one mile of Muskegon Lake shoreline. Doug Melching purchased the property with the intention of creating jobs in west Michigan. When complete, the project will transform the site into a redevelopment project that will include a green energy biomass power plant, a potential ship repair dry dock repair, and other manufacturing operations. Working with the Melching team, the demolition contractor handled all demolition, environmental cleanup and an asbestos abatement with a scope of work estimated to cost $2 million dollars.
For more information about submitting entries for the 2013 National Demolition Association Environmental Excellence Awards or becoming a member of the Association, go to www.demolitionassociation.com or call 800-541-2412.
Companies in this article