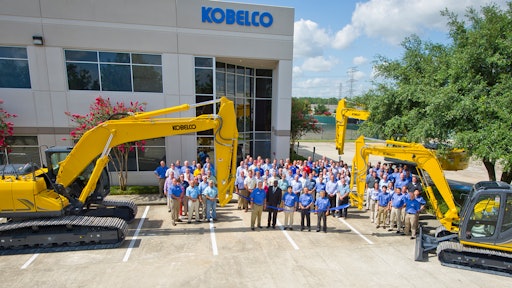 Kobelco Construction Machinery USA, a global leader in the manufacture of crawler excavators, recently held a ribbon cutting ceremony at its new Houston-based North American Headquarters following the relaunch of the brand as an independent product line earlier this year.
Kobelco Opens New Headquarters in Houston
The ribbon cutting ceremony was held on Tuesday, July 9, 2013,at 4690 World Houston Parkway. The event was well attended, with nearly all of Kobelco's recently signed dealers represented, a host of local and national media and several local officials, as well as Kobelco staff members from all over the world.
Kobelco Ramps Up Parts Inventory at Houston Distribution Center
Kobelco's new Houston facility has brought a multitude of jobs and revenue to the local economy. "Houston provided the perfect centralized location to relaunch the brand and to support and service customers and dealers throughout the United States and Canada," said Ron Hargrave, Vice President of Marketing and Sales for Kobelco North America. "The local community has been receptive and rather excited to have Kobelco back in town after having been a part of the CNH organization for 10 years. And, there were several prior Kobelco employees still in the area who we've recruited back. This has really helped us to hit the ground running. In just a few short months we've opened our headquarters, signed 40+ dealers, stocked our parts warehouse, hired a full staff of experienced equipment industry professionals and brought product over from Japan, stocking dealer yards in time for the Spring/Summer 2013 selling season."
Kobelco Excavators Return to U.S. for First Time in Over a Decade
The Ribbon Cutting Ceremony kicked off with speeches from Kobelco management which outlined the company's aggressive growth goals and thanked local officials for their support, employees for their initial hard work and the media for their coverage of the brand's rebirth. Following the official cutting of the ribbon, attendees had the opportunity to walk around and kick the tires of a wide-range of Kobelco excavators on display and take a tour of the company's offices and parts facility.
"The Ribbon Cutting Ceremony was extremely important for our dealers and our staff, all of whom have worked extremely hard over the past few months to help relaunch Kobelco excavators," said George Lumpkins, Vice President of Product Marketing.
While the ribbon cutting ceremony served as the brand's official relaunch in North America, Kobelco executives promised that it would simply commemorate the beginning, with many additional great things to come. The first look at the new Kobelco for many will come next year at ConExpo/ConAgg 2014 in Las Vegas, where Kobelco has plans underway for a massive outdoor display to showcase its full product line.
Kobelco focuses on dealer network
The biggest focus of the company's new North American marketing strategy is dealer networks and regaining the market share, Hargrave said. In just 90 days, Kobelco was able to accumulate over 40 dealers which added up to 144 selling outlets in the U.S. and Canada. "We've been fortunate to have a bunch of legacy dealers who sold Kobelco before come back, but we also picked up a bunch of really good new dealers that weren't selling Kobelco before," Hargrave said.
Currently, Hargrave says Kobelco has good dealer presence in the northeastern, southeastern and central areas but will look at dealer opportunities with anyone who contacts the company with interest. States Kobelco is looking to expand in include Missouri, Kansas, Oklahoma, Colorado, Wyoming, Montana and Arizona.