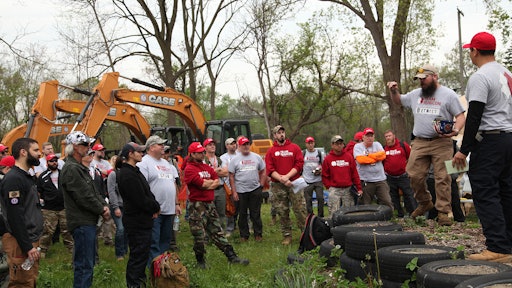 CASE Construction Equipment, Southeastern Equipment and Paladin Attachments provided equipment and product support to Team Rubicon as part of MOBEX Motor City, a five-day training exercise that trained Team Rubicon members in damage assessment, chainsaw use and heavy equipment operation. Command, general staff and strike team training also took place as part of Team Rubicon's largest training mobilization to date.
CASE and Southeastern Equipment provided three excavators and three skid steers to the event, and Paladin Attachments donated two grapple buckets to Team Rubicon for use in future training and disaster response operations.
"More than 100 Team Rubicon members participated in the largest training mobilization we've ever had," said Jason Ferguson, deputy director of training and exercise, Team Rubicon. "Heavy equipment training remains one of our most important disciplines, and events like this provide both a safe and realistic environment for what our teams will face in disaster response deployments. We're able to help improve real communities in the process – which is the driving force in all we do."
The work, performed in conjunction with Motor City Blight Busters, included the clearing of trees and other debris to return abandoned lots to nature in Detroit's Brightmoor neighborhood.
To learn more about Team Rubicon and its disaster response work, visit TeamRubiconUSA.org.