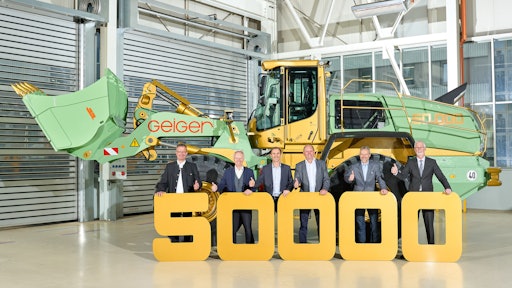 The 50,000th Liebherr wheel loader has rolled off the production line at Liebherr-Werk Bischofshofen GmbH. The anniversary machine, an L 566 XPower, will be delivered to longstanding customer Geiger Unternehmensgruppe. Geiger's Managing Partner Pius Geiger and Geiger Logistik's Managing Director Gernot Beer travelled to Bischofshofen to pick up the anniversary wheel loader in person.
Liebherr-Werk Bischofshofen GmbH develops, produces and sells wheel loaders made by the Liebherr Group. The delivery of the 50,000th wheel loader is a particular reason to celebrate for the plant and its employees, who number in the region of 1,000. The anniversary underlines the sustainable development of the wheel loader plant. It has continued to grow over the decades thanks to pioneering innovations, creative solutions and high standards of quality, including ongoing investment  in cutting-edge infrastructure and production capacities.
Liebherr-Werk Bischofshofen GmbH currently provides 15 different wheel loader models in four product groups: compact loaders, Stereoloaders, medium-sized wheel loaders and large XPower generation wheel loaders. The plant has also developed an independent product line for emerging markets outside Europe and North America in close collaboration with Liebherr production companies in Dalian in China and Guaratinguetá in Brazil. Liebherr-Werk Bischofshofen GmbH is also responsible for sales and services relating to the entire range of Liebherr construction machinery throughout Austria.