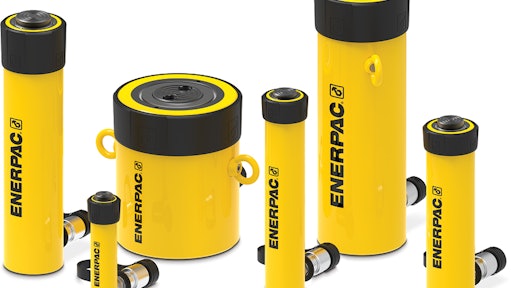 Enerpac

Enerpac RC-Trio hydraulic cylinder features a Trio bearing system for enhanced durability and a hybrid spring-return system for faster retraction and even greater productivity. The system includes up to four high-performance wear bands, offering increased resistance to damage, reduced bearing load, and longer cylinder lifespan. The hardened composite material of these bands increases bearing surface area for greater sideload resistance, significantly improving cylinder life. Durability is also on display in new high-performance polyethylene seals that last longer than ever.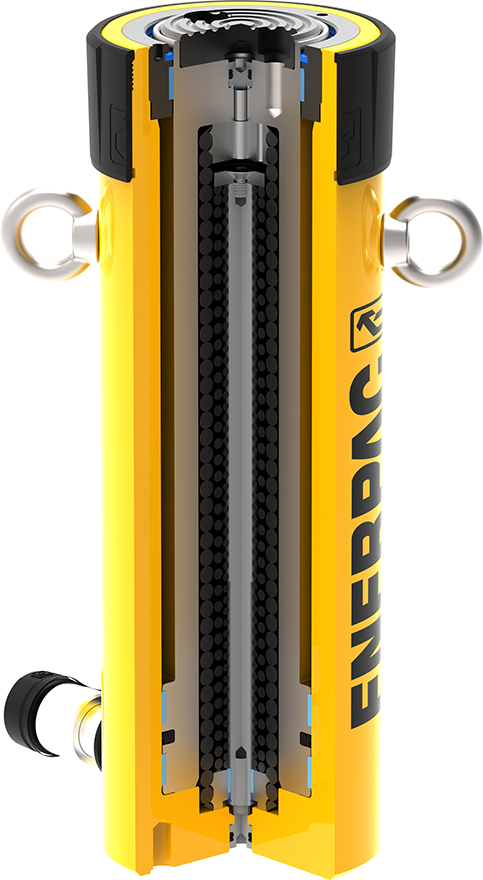 EnerpacAnother part of the Trio bearing system is the Trio stop ring, which includes an additional wear band to absorb greater sideload. The stop ring is capable of taking full cylinder extension force and, depending upon cylinder size, is manufactured in Nitrided Steel or High-Resistance Bronze, for increased durability. It also features a durable wiper to help prevent contamination from entering the cylinder during retract cycles.
Productivity
When it comes to productivity, the RC-Trio features a Trio spring system designed to reduce retraction time. This pre-tensioned return spring system provides up to 3X faster retraction (available on 50-, 75-, and 100-ton models). It uses high-strength steel wire to improve spring life. The spring retention design improves serviceability while allowing higher pre-load during assembly. Additionally, the spring is easily removed without special tools.
Versatility
The RC-Trio is a general-purpose cylinder available in 41 models and is designed for use in all positions.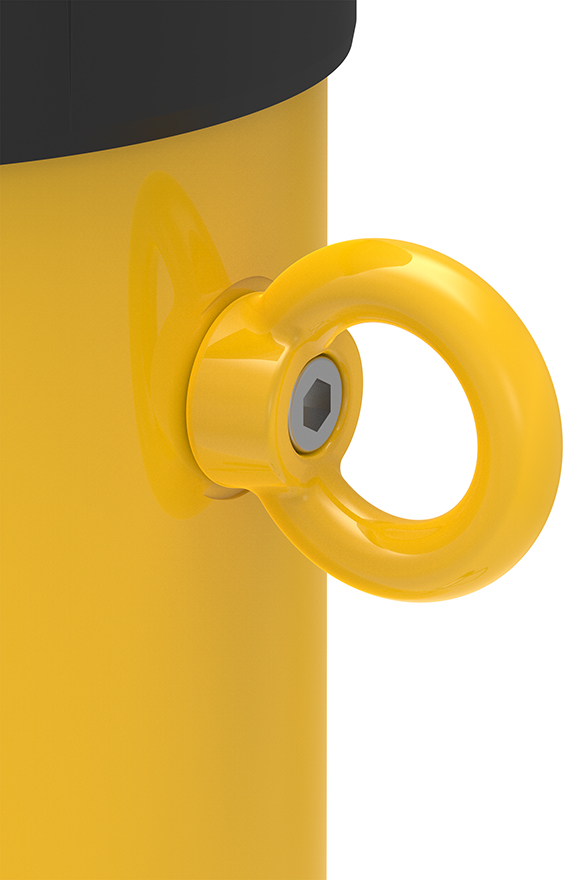 EnerpacFeatures
Collar and plunger threads and base mounting holes that enable easy fixturing (on most models),
Base holes on 30- and 75-ton models,
Hardened plunger saddle that protects plunger end during all lifting operations,
Optional tilt and smooth saddles as accessories.
The RC-Trio maintains the same dimensions and connection threads, providing full compatibility with existing RC-Series units in the field.