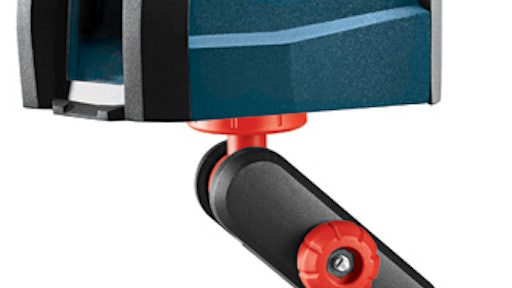 The Bosch GLL 30 delivers productivity in a wide array of leveling and alignment applications by projecting cross lines with an integrated one-switch locking pendulum and the ability to lock lines at any angle, which adds value over a typical line laser. The ergonomically-designed Bosch GLL 30 Self-Leveling Cross-Line Laser provides cross-line lasers for outstanding job setup in a compact package.
Bosch's Smart Pendulum System assures self-leveling accuracy and indicates out-of-level condition.
The pendulum system locks when switched off to assure secure tool transport.
Ergonomic construction with a comfortable and soft-grip design.
Comes with the MM 2 flexible mounting device that ensures quick setup in freestanding mode or for stairway installations.
It has micro fine height adjustment, which enables the user to adjust the working height of the device and then lock it.
The mounting device allows the Bosch GLL 30 to be clamped on virtually any surface (from 1/2 in. to 2-1/4 in. thickness) to produce level lines at any height or virtually any angle.
Includes two AA batteries.
Request More Information
Fill out the form below to request more information about
Bosch GLL 30 Self-Leveling Cross-Line Laser