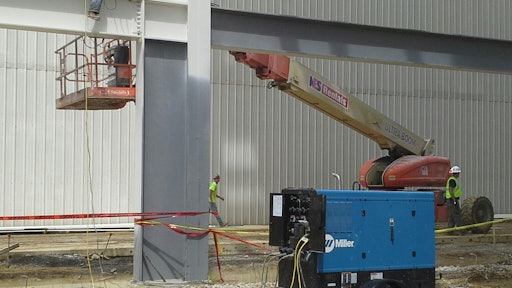 Superior Steel is one of the top steel erectors of its size in the country. Founded in 1978 and based in Knoxville, TN, it is uniquely equipped to cater to the precise needs and demands of field superintendents and construction project managers because of its experience in engineering, fabrication and erection.
Superior assists customers with design-build projects, and has American Institute of Steel Construction (AISC)-certified fabrication facilities with the capacity to produce more than 18,000 tons of fabricated steel annually. As an AISC-certified erector, the erection division has the equipment to solve most any lifting challenge, whether it's a 40-ton crane to erect a small project, or three 150-ton cranes to simultaneously lift trusses at a C5 hangar or the Kentucky Expo Center. Among its 150 employees are about 40 welding operators, as well as experienced, full-time personnel who maintain, transport and set up the company's cranes, allowing Superior to quickly respond to customer needs.
"We can help customers do whatever they need. We fab our own steel, we erect our own steel and we detail our own steel. We have structural engineers in house. We have our own trucking," notes Robert Human, Superior Steel general superintendent. "We just do it all."
Equipment and Space Savings
Superior Steel may be working on 10 or more projects at any one time across the country. It specializes in large industrial and commercial facilities such as museums, theme parks, stadiums, aircraft hangars, government structures, universities, hospitals and churches.
The company recently purchased multiple Miller Big Blue 800 Duo Pro diesel engine-driven welder/generators for welding and power generation capabilities on structural steel erection jobsites. The welder/generators provide 800 amps for a single welding operator, 400 amps each for two welding operators or can be used as a three or more arc multi-operator machine with the addition of inverter-based welders that can be powered off the units' auxiliary power.
"It saves you money on jobsites when you can have more than one welder working off the same machine. You don't have to keep purchasing welder after welder," Human points out. "It saves a lot on maintenance, filters and oil changes."
It's also a big space saver, since reducing the number of machines helps minimize the amount of clutter on site. "Construction sites these days are so congested. The sites are getting smaller, and the jobs are getting bigger. You have no room to maneuver everything around," comments Jack Freytag, superintendent and foreman with Superior. "One machine with dual operators on it and other functions being used off of it at the same time — it limits the space you have to take up."
Those other functions include the ability to power tools such as lights, saws, drills, grinders and fans via 20,000 watts of continuous three-phase auxiliary power and 12,000 watts of continuous single-phase power - all while continuing to weld. "It doesn't cause the arc to fluctuate," says Freytag. "You have a more constant flow with this machine."
Another advantage is quieter operation, which contributes to improved jobsite communication and safety. "The guys need to be able to hear and know what's going on around them all the time," says Freytag. "The Big Blue 800 is so much quieter than any of the other machines that we've had out here on sites."
A Productivity Boost
The welder/generators are primarily used with two welding operators simultaneously performing stick and flux-cored welding, ranging from 1/4-in. fillet welds on a perimeter angle to full penetration welds up to 2 in. thick. A recent job involved welding steel columns that weighed 26,000 lbs. each with 2-in.-thick flanges.
Setup and use of the machines is quick and easy. "You can set your amperage range to where you need to be the first time. It saves you from going up and down — you could spend several hours going up and down trying to get a machine set to where you want it," Freytag comments. "With the digital readouts on the Big Blue 800, you know where you're at right then. You set your machine and go."
The multi-operator machines help Superior complete jobs faster, and gain a competitive edge. "Having the equipment that will help you to move along and get a better production level - it's a must," Freytag says. "It allows us to perform these bigger and more complex jobs in a timely manner. You can do the jobs faster and with less equipment. The end game is to turn these projects over as fast as you can and move on to the next project."