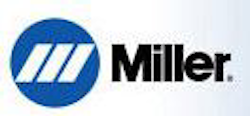 As part of the WE BUILD brand campaign, which celebrates the hard working men and women of welding, Miller Electric Mfg. Co. announces the 2014 Miller BUILD & WIN sweepstakes. Visitors to MillerWelds.com/webuild can share a project built with Miller equipment — up to once monthly between April 1 and November 30, 2014 — for a chance to win products and an unforgettable sports fan experience grand prize package.
"Hard-working men and women build bigger, brighter and better things in this world with Miller. We want to celebrate their work by sharing it with the world — and reward them for doing it," said Rich Thompson, vice president of marketing for Miller Electric Mfg. Co. "The work they create has lasting impact that benefits many for generations to come. That work is their legacy and Miller is honored that together, what we make stands the test of time. That's why this year, we chose to highlight ironworkers and brothers Jake and Ken Wirkuty at Miron Construction, who were part of the recent expansion at Green Bay's legendary Lambeau Field." 
Each month during the eight monthly entry periods, Miller will randomly select one entry to win a Miller prize package. These packages include a variety of welding protection items, a portable workbench and other products. (See website for full list of monthly prizes.) Every entry shared as part of the sweepstakes is also eligible to be randomly selected to win the grand prize: a sports fan experience including expenses-paid trips to three events at legendary sporting destinations built by welders. Two of these trips will be to U.S. venues of the winner's choice from a select list. In addition, the grand prize winner will attend a game at Lambeau Field and will visit Miller headquarters in Appleton, WI.
Entrants can check the webpage to view monthly prizes and winners, share project photos and see what others are building. The grand prize winner will be drawn in December 2014.