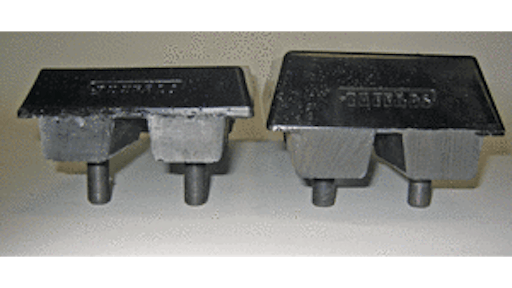 84/96-1800 NG Auger Boring Machine
The 84/96-1800 NG auger boring machine delivers 1,800,000 lbs. of thrust, and 272,236 ft.-lbs. of maximum torque.
300-hp Caterpillar C-7 Tier III diesel engine and 10-speed transmission
Working range of 24 to 84 in.
Quik Tran fast return system provides up to 20,000 lbs. of push/pull at high speed
Quik Split frame design for faster, easier lifts into and out of the working pit
Hydraulically assisted clutch with a power-assisted actuator
American Augers Inc,
Badger CD4430 RT Crane
The Badger Equipment 30-ton CD4430 cab-down-style rough-terrain crane is targeted to niche markets such as bridge contractors, railroads, refineries and heavy industrials.
Three-section 75-ft. synchronized boom or two-section 53-ft. boom
Standard all-wheel-drive/steer and crab steering
Cummins Tier III engine
Two-door, high-visibility, comfortable cab with joystick controls
Cantilever-style outriggers
Optional factory installed Hi-Rail gear system will be fully integrated for easy adaptation in rail applications
Badger Equipment Co./Manitex International, Inc.
EH Series Cranes
The EH Series cranes incorporate a planetary winch-hoist drum and wire rope located outside the boom for improved operator visibility.
100% solid-state control system with arch-suppression and a 25-ft. cable
Self-contained hydraulic system with a 12-volt DC motor that delivers 2.2 gpm
All-steel worm gear drive system provides 360° continuous rotation
Standard power boom extension
Features include anti-two block, wireless remote control, 20-in. crane pedestal for flatbed applications and battery isolator
Maintainer Corp. of Iowa, Inc.
iVISOR mentor EI65 Indicator System
The iVISOR mentor EI65 indicator system for mobile cranes provides a continuous display of actual load and allowable load, boom angle, boom length, radius and parts of line, and alerts the operator to an impending two-block condition.
Operator can preset limits for all geometric and load variables with an audible and visual warning when these limits are reached
Large backlit display incorporates BestView - Adaptive display control
Designed as an upgrade to existing EI65 systems
Hirschmann Automation and Control, Inc.
Light Equipment
The light equipment product line features 32 models representing Light Compaction, Hydraulic Power Packs and Hydraulic Hand Tools.
Light Compaction includes rammers, a single drum roller and forward and reversible plate compactors
Hydraulic Power Pack range includes four models with a compact, user-friendly design, power-on-demand system and suction circuit that eliminates pulsation damage to the cooler
Hydraulic Hand Tools include breakers, trash and submersible pumps, three drill types, saws, wrenches and a two-person auger
JCB Americas
Maxi-Lite EX Series with Vertical Tower
The ML EX V Series offers the V Series vertical light tower, an extended run time, a larger, wider, more stable trailer and added auxiliary power.
Hydraulic lift system allows the mast to be completely raised and lowered in less than 30 seconds
Models currently deliver 20 or 30 kW with 40 kW to be available
SHO-HD 1,250-watt lighting system provides 150,000 lumens per lamp
135-gal. fuel capacity and trailer-integrated fuel containment system
Optional Saf-T-Visor attachment directs previously wasted light onto the worksite
Allmand Bros Inc.
PK 11001 CM Crane
The 2,875-lb. PK 11001 CM (Corner Mount) crane for service bodies allows for maximum compartment space and rear bumper access to the bed.
70,000-ft.-lb. rating and 12,300-lb. maximum lifting capacity
26-ft. 5-in. maximum hydraulic outreach
390° slewing angle
Features include the Paltronic 50 system, BMS-2 radio remote control, ground-level operator's station, hydraulic out outrigger and swivel pads on both stabilizer legs
Palfinger North America
Poly Bolt-On TUFPADS HIGHTOP Track Pads
The Poly Bolt-On TUFPADS HIGHTOP track pads are now available in 10-, 12-, 14- and 16-inch versions for different brands and models of asphalt milling machines.
Designed to last 25% to 50% longer than the standard poly bolt-on track pads
Bolt onto a steel triple grouser shoe for easy installation and removal and reduced replacement part and labor costs
Available as a TUFPADS BLUES track pad with extreme blue polyurethane, which lasts 15% to 30% longer than the original black polyurethane
BLS Enterprises, Inc.
S800TX Mini Skid Steer
With a rated tip capacity of 2,400 lbs. and SAE operating capacity of 840 lbs., the Vermeer S800TX mini skid steer can efficiently lift and transport a large load of material in and around confined spaces. The hydraulic system of the S800TX is capable of providing 14 gpm for effectively powering more demanding attachments, while the 35-hp engine provides power and breakout force. A dedicated ride-on platform offers broad jobsite visibility.


The S800TX mini skid steer offers a 2,400-lb. rated tip capacity and an 840-lb. SAE operating capacity, all in a compact frame.
35-hp diesel engine provides greater power and breakout force
Hydraulic system capable of providing 14 gpm
40.5-in. width
Dedicated spring-cushioned ride-on platform with integrated operator presence system
Ground drive controlled by a single, pilot-operated joystick and boom/bucket motion controlled by a single, dual-axis joystick
Universal mounting plate
Vermeer Corporation
Series DP5000 Hose Reel
The Series DP5000 compact dual pedestal hose reel can be used for air/water, oil and grease up to 1/2-in. I.D. hose.
Heavy gauge steel with interlocking base and dual guide arms for added strength and resistant to vibration, while reducing weight
Guide arms adjust to multiple locations
Suited for use in tight spaces or mounting in cabinetry
Reelcraft Industries