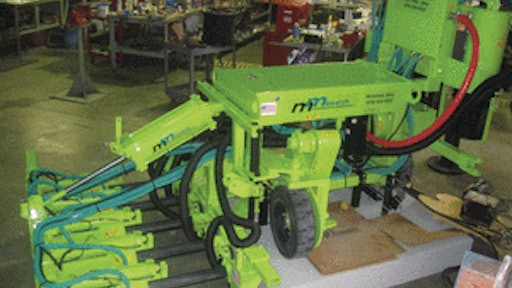 A-5SCW Dowel Pin Drill
The A-5SCW five-gang, self-propelled, cantilevered dowel pin drilling machine comes with a wireless remote.
Remote operation allows the operator to stand in the grade for added safety
Pointer enables easy alignment for the next set of holes
Includes an auto-crab feature, flip-top panel and standard auto controls
Quick-change depth adjustment
Crab steering is now a flip switch function
Minnich Mfg. Inc.
Curb Fox 5000
The Curb Fox Model 5000 now features a 16-gpm closed loop drive pump for the travel circuit.
Paves efficiently at 1 fpm on large curbs and can move around the jobsite at 150 fpm
Allows simple plug-in addition of a third vibrator for sidewalk sections (up to 6 ft. wide)
Main piston pump offers a 22-gpm capacity
Optional 8-ft. belt conveyor driven by the standard hydraulic pump package and equipped with a 24-in. hydraulic shift cylinder
Curb Fox Equipment (formerly Messinger Inc.)
G10-43A Telehandler
The G10-43A model telehandler is suited for use in commercial and residential construction applications including steel erection and framing.
Includes standard outriggers, a maximum capacity of 10,000 lbs. and a capacity of 7,000 lbs. at the maximum reach height of 43 ft.
Spacious, enhanced-visibility cab and comfortable operator environment
Feature pilot-operated joystick controls, a wrap-around dashboard and easy-to-read gauges
Full range of common JLG family attachments
JLG Industries, Inc.
Motor Grader Video Series
The Motor Grader Video Series is a series of job-specific DVDs devoted to safe and efficient motor grader operation.
Developed with the input of professional motor grader operators
Each includes a brief machine introduction and practical view of the pre-use inspection and the many unique features of motor graders
Video titles include New Construction, Road Maintenance, Operating Tips and Snow Plowing
VISTA Training, Inc.
Poseidon II Barges
Poseidon II barges are now available in a 40' x 10' x 5' size.
Flexifloat compatible connection system
Zinc blocks reduce corrosion
Coated with Bio Float rust inhibitor on the interior
Spuds and pockets available
Poseidon Barge
Profoscope Rebar Detector & Covermeter
The Profoscope rebar detector and covermeter features a scope-based detection interface that combines rebar proximity indicators with optical and acoustical locating aids to find rebar and measure cover depth and rebar diameter.
Symmetrical triangulation of the rebar configuration indicates when the unit is located between two rebars or directly on top of one
Small, light, cordless, ergonomic design enables one-handed operation
Large graphic LCD display offers a language-independent menu and selectable backlight
Proceq
RoadHog Milling Attachments
The updated self-powered RoadHog milling attachments for loader-backhoes are powered by 76-hp John Deere PowerTech turbocharged, four-cylinder, Tier III-compliant diesel engines.
Available in 30- and 40-in. cutting widths with an 8-in. cutting depth capability
Cutting drum can be sideshifted hydraulically to the right side for cutting shoulders or against curbs
Features hydraulic tilt (slope) control for matching grade or making bevel cuts
Wireless remote controller activates engine functions, hydraulic tilt, depth and sideshift
Attaches in place of the bucket via pin-on style or quick-attach style brackets
Zanetis Power Attachments
Secure Fuel System
The Secure Fuel System is designed for real-time tracking of dispensed fuel to prevent theft or unauthorized use.
Easily installs on any fuel, lube or pickup truck
Can also be installed on fuel stations or remote bulk tanks
OEM Data Delivery
Stainless Steel Electric Submersibles
These fully self-priming, stainless steel electric submersible pumps meet the demands of applications requiring corrosion resistance and durability.
Flows from a few to several hundred gallons per minute, with head conditions to several hundred feet
Standard stainless steel motor housings, impellers and impeller casing
Available from 120-volt single phase to 460-volt three-phase
Control panels with float switch capability for automatic start/stop conditions
Griffin Pump & Equipment
SUI Grizzly Screens
SUI Grizzly Screens are available in Rip-Rap King Grizzly, Light Construction Grizzly, Landscape Pro Grizzly in Fixed Top, Adjustable Top, Flip Top and Spring Top models.
For use with skid steers to full-size loaders to separate jobsite soil of any size debris
Available from 1-in. minus to 12-in. minus
Rugged, durable and solidly built
Suitable for high-production, demanding jobs from hardcore rip-rap to landscape applications
SUI Manufacturing, Inc. (Steel Unlimited)
Super High Flow Kit
A Super High Flow Kit is available for Case 440, 450 and 465 Series III compact track loaders.
34 gpm at 4,500 psi (89 hhp) delivers 33% more hydraulic horsepower (89 hhp)
16 gpm at 4,500 psi in reverse
Separate 8-gpm auxiliary for attachment control
Additional cooler keeps temperature down
Factory ordered and installed
Burlington Installation Corp. BIC
Telestick Boom Extension
The Telestick boom extension is designed with a Quick Change feature to efficiently switch attachments.
Can increase the reach and range of Gradall Series 3 excavators to as much as 50 ft. 2 in. on the largest models
Can be equipped with buckets, blades, grapples and more
Incorporates adjustable rod eyes on the dead link and adjusting capabilities to provide proper contact of the stroke limiters
Can be installed in less than 30 minutes using the standard boom-end bucket adapter and two pins
Gradall Industries, Inc.
Companies in this article