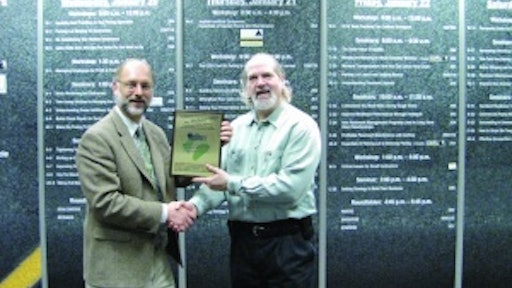 SealMaster Partners with Rose Paving
SealMaster will become Rose Paving Company's preferred vendor of pavement maintenance products and equipment on a national level, according to an agreement announced jointly at National Pavement Exposition in Nashville. In addition to leveraging SealMaster's products and methodologies to achieve higher quality and consistency for Rose Paving's client sites nationwide, the two companies will jointly approach select national marketing projects.
"We are delighted to announce this affiliation with Rose Paving," said Tim Stephens, SealMaster franchise director. "In addition to putting our products into the hands of a quality contractor and its preferred alliance members throughout the United States, the joint marketing element allows us to work conjunctively to deliver our pavement maintenance message to decision makers at select Fortune 500 companies."
David Rivers, director of national operations at Rose Paving Co., said the contractors multi-site properties in particular will benefit from the agreement. "I am confident our shared philosophies and joint efforts will generate a more stable market while educating those who may have previously opted for lesser quality products and methods," Rivers said.
Heydorn Honored by WorldSweeper.com
Allan Heydorn , editor of Pavement Maintenance & Reconstruction and conference coordinator for National Pavement Expo, accepts the WorldSweeper.com Award of Excellence in Power Sweeping from Ranger Kidwell-Ross at NPE in Nashville. Heydorn received the award for "contributions to the United States power sweeping industry" at the Sweepers Roundtable.
SealMaster/Michigan to Host Seminar
SealMaster/Michigan, Detroit, will host a State of the Industry seminar March 30 at the Hilton Garden Inn, Novi, MI. For details call 313-491-6800.
Companies in this article