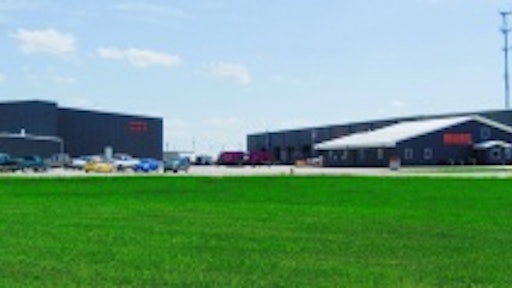 Bergkamp Completes Expansion
Bergkamp Inc.,Salina, KS, has doubled its office and manufacturing facilities, according to Scott Bergkamp, president. With the completion of this two-phase expansion and a more than $2 million total investment the company now has 75,000 sq. ft. of manufacturing space, which houses $250,000 in new equipment and more than 4,000 sq. ft. of office space.
Volvo to Close NC Plant in March
Volvo Construction Equipment has announced the company's Asheville, NC, manufacturing facility will stop its activities by March 31, 2010. The closing will affect 228 employees.
Production from Asheville will be moved to other existing Volvo CE locations: The manufacturing of wheel loaders will move to Arvika, Sweden; excavators will be produced in Changwon, South Korea and cabs for motor graders will be moved to Shippensburg, PA.
"Volvo CE's commitment to the U.S. market remains strong," said Olof Persson, president and CEO of Volvo Construction Equipment. "This decision has no impact on the ongoing significant investments in Shippensburg, where the Volvo CE plant is being expanded to receive the motor grader production and the manufacturing of grader cabs."
Asphalt Institute Updates "Maintenance Manual"
The Asphalt Institute has released the 4th edition of the MS-16 Manual, "Asphalt in Pavement Preservation and Maintenance." At 170 pages the new edition is more than twice the size of the previous edition and now includes the topics of pavement management and preservation. Discussions on all the maintenance and preservation methods have been expanded, including the latest technologies on current surface seal options, infrared patching, specialized patching procedures and expanded cracksealing and filling procedures.
The updated manual maintains its field-friendly size and was prepared with the hands-on practitioner in mind. It provides useful guidance on materials, designs, techniques, equipment, mixing and placement, best practices, precautions, and more. Ordering information can be found on www.asphaltinstitute.org or call (859) 288-4960.
Companies in this article