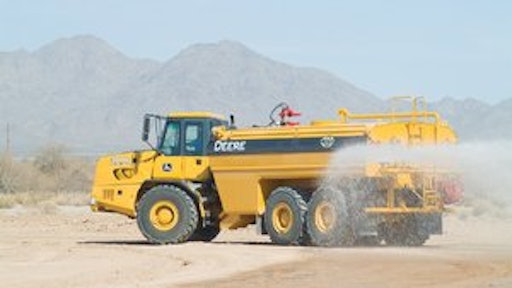 300D Water Wagon
The 49.100-lb. 300D Water Wagon has the advantages of an articulated dump truck and provides stability comparable to scraper-towed tankers.
Low center of gravity via a long, low tank and extended truck frame
ADT six-wheel-drive powertrain
Standard transmission retarder extends brake life
Standard 7,000-gal. pin-in tank and optional water cannon, hose reel and side spray
285-net-hp John Deere PowerTech Plus Tier III-certified engine
JOHN DEERE
EDGE Material Unroller
The EDGE Material Unroller allows for safer, faster installation of erosion control mats with fewer people.
180° swing allows a skid steer to unroll material on one side, swing the material to the other side and begin rolling right away
Optional stems accommodate rolls of erosion control material from 4 up to 12 ft. wide
CEAttachments Inc.
EnviroSafe Stormwater Control System
The EnviroSafe Stormwater Sediment Control Sack (ESSCS) system captures and retains pollutants from jobsite stormwater runoff.
Fit a range of rectangular and combination curb/drop inlets using adjustable flange technology
Can be configured to fit catch basins from 16" x 16" to 50" x 50"
ESSCS plus fitted with AEGIS-treated Microbe Shield X-Tex replaceable liner to capture pathogens, hydrocarbons, oil and grease, while retaining material to 212 microns
Transpo Industries, Inc.
Envirotac II
Envirotac II dust and erosion control product from Environmental Products & Applications penetrates and extends down into the soil to create a tough layer of protection.
Binds soil particles together by forming a clear, plastic and resin bond
Light applications effective for cementing soil particles together for dust and erosion control, while allowing water and air to penetrate the surface
Heavier applications build durable and waterproof surfaces that can withstand even vehicle traffic
Non-toxic and environmentally safe
Environmental Products & Applications, Inc.
EZR material roller
The skid-steer-mounted EZR material roller can install various erosion control material up to a maximum roll width of 8 ft. and weight of 500 lbs.
Three sizes of detachable stems available
Hydraulic actuator swings the pivot arm 180° left or right and angles 115° up and 8° down
Pivot arm lock for storage or transport
Roll retaining collar keeps material roll firmly positioned
Burchland Manufacturing LLC
Maximus Series Wheel Wash Systems
The Maximus Series totally portable, automated wheel wash systems are designed to eliminate trackout at project sites.
Entirely above-ground system can be assembled, attached to power and water and ready to operate in just hours
Fully automated, closed loop wter recycling and solids separation process
Offers one- and two-tire revolutions of cleaning in standard models, with custom-built models available
42-in.-wide wash elements flex the tire tread open to flush tires clean
Innovative Equipment Solutions (IES)
Rumble Track
Contractors-Services Rumble Track is designed to reduce the need for rock and base exits.
Designed to be placed on jobsite exit roads where they join public streets
Reduces need for water trucks and sweeping
Complies with Storm Water Act, AQMD Rule #403 and PM10 in southern coast air basin
Helps solve PM10 dust abatement, soil stabilization and debris track out problems
Contractors Services LLC
Silt Fence Installer
Modified from Ditchs proven vibratory plow, this vibratory silt fence installer includes a roll carrier, special plow blade and a guide wheel.
One-pass method provides faster installation, does not require backfilling of soil and installs product with minimal ground disturbance
Can be powered by the heavy-duty SK650 mini skid steer, the XT850 excavator-tool carrier or the four-wheel-drive Zahn R230 and R300
Ditch Witch
Silt Fence Plow with Rotary Offset Design
This rotary offset silt fence plow is designed to be offset to either side by pulling two pins and rotating it over.
Rear-pivot design pivots 90°
Will install 48-in. and smaller fabric down to 20 in. deep
Features a 1-in.-thick blade, spring-loaded cutting coulter, transport lock, swing-dampening cylinder, drop-down storage legs with pads, replaceable blade point and fabric tension spring
Available for skid loader and three-point hitch mountings
McCormick Equipment
STB 30 Wash System
The 12-ft. long (one tire rotation), 30-hp STB 30 Wash System can be set up in one day and can run on 230 volt, three-phase power.
Tank mounted below the wash troughs
Removable opening for sewer sucker cleaning
No moving parts
All wash water is recycled and completely contained
Sprays mounted along the sides of the truck tires and aimed to get into the tops and along the sides of the tires
Stanton Systems
StrataGrid Reinforcement Geogrid
The StrataGrid line of geosynthetic products is offered in 18-ft. widths and 600-ft. lengths to cover 1,200 sq. yds. of subsoil.
Provides wider coverage with fewer individual rolls and fewer seams that need to be spliced between adjacent panels
High-tenacity, knitted polyester yarns for flexibility
Simple overlap connection between end rolls
Unrolls flat, retaining virtually no materials memory
Maintains uniform contact with subgrade contours for easier installation in cold weather
Strata Systems Inc.
Water Cannons
The Model 5000 water cannon features a low-profile (12-in. tall), compact design that makes it a suitable addition to any water truck.
Horizontal variable speeds
390 degree plus horizontal rotation and 60 degree vertical travel
Turret-style operation with adjustable stops at 20 degree intervals
Delivers 350 gpm with a maximum distance of 150 ft.
Joystick cab control box and 20-ft. wiring harness
12V DC or 24V DC
Wireless radio remote control version available
RoadRunner Water Cannons