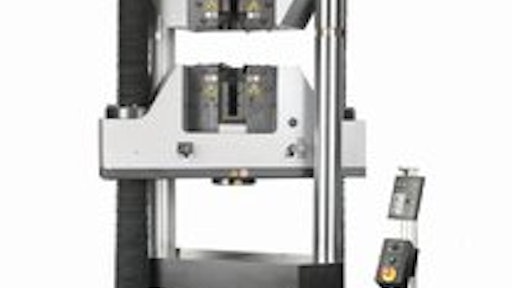 1000HDX
Instron introduces its 1000HDX Universal Testing Machine that features a dual test space for tension, compression, bend, shear, and flexure testing on high-strength materials. The machine is ideal for testing materials for the metal, fastener, and construction markets, including rebar, wire, strip, tube, plate and structural steel, as well as concrete. Unit is available with two different crosshead configurations: hydraulically-actuated open front design for increased productivity and operator safety; and manually-operated closed pocket design when budget constraints are a primary concern. Instron digital control electronics provide automatic recognition and calibration of transducers, while the Windows-based testing software provides ease of operation and flexibility. Accuracy is provided by load cell system and zeroing capability.
APA Jr.
The Asphalt Pavement Analyzer-Junior (APA-Jr.) is a multifunctional wheel tester used to evaluate both cold and hot mix in a dry or submerged in water condition.
Can test cylindrical- and beam-type samples
Two loaded wheels
Meets the provisions of the AASHTO TP63-06 Test Method for Determining the Rutting Susceptibility of Hot Mix Asphalt and AASHTO T324-04 Test Method for Hamburg-Type Wheel Tracking Test
Uses a PLC PC-based control system
control/analysis software
Malvern Instruments offers a software version for its range of Malvern Bohlin rheometers.
Version 6.40 includes flexible data analysis setup and automation and a completely new test type
Analysis routines built into the software, including a template wizard, improved model fitting capabilities, Time Temperature Superposition (TTS) analysis, and data manipulation routines
Extended language support
Fewer than five mouse clicks are needed to perform an analysis
H-1322 compression machine
The Humboldt H-1322 Marshall and TSR compression machine provides unattended operation and recording of test data.
16-BIT analog to digital converter with chart recorder output
Automatically tests and records Marshall stability and plastic flow of bituminous mixture on one chart with an accuracy to less than 1 percent over the total range
Total frame capacity of 10,000 pounds for Marshall and TSR compression
IRIS Ground Penetrating Radar
Allows you to "see" through concrete, asphalt and soil
Helps detect subsurface moisture, voids and bridge deck delamination
Helps determine pavement structure and layer thickness
Can be done at highway speeds
Locates and measures voids beneath pavement
PaveTracker Plus
The Troxler PaveTracker Plus is a lightweight electromagnetic sensing device for measuring the uniformity and relative density of asphalt pavement.
Measurements are practically instantaneous when the device is placed on the asphalt surface, allowing the operator to correct problems before construction is complete
User-friendly software to assist the operator in performing readings and storing data for later viewing or downloading
For quick quality control measurements to check for segregation, areas of low density and overall pavement uniformity
Complies with ASTM standard D7113
Non-nuclear and requires no licensing or special training in order to possess, operate or transport the equipment
SDG soil density gauge
To meet the need for a fast, accurate, non-nuclear soil density/compation and moisture gauge, TransTech Systems has developed an innovative alternative, the electrical impedance-based Soil Density Gauge (SDG) for use as a QC tool during the soil compaction process. The SDG is designed to eliminate unit icensing and certification associated with nuclear materials usage. No special operator training/certification or radiation monitoring requirements are necessary. The unit is user friendly and cost effective for any crew member. Unit provides GPS logging for database management and offers fast, reliable and repeatable reading in real time.
SG-4 Asphalt Bulk Specific Gravity Device
Gilsons SG-4 Asphalt Bulk Specific Gravity device is a quick and accurate method for
bulk specific gravity determinations of asphalt cores and gyratory specimens.
Uses a precision micro-processor-controlled system to measure water displacement with accuracy
Simple to use
Uses no consumable products
User is able to perform more than twice as many tests in the same amount of time
Optional printer allows printing of results for a permanent record
Simple Performance Tester/Asphalt Mix Performance Tester
Interlakens new Simple Performance Tester is a computer-controlled hydraulic testing machine to conduct three NCHRP Project 9-29 compressive tests on cylindrical asphalt concrete specimens.
Three tests include the Flow Time Test (Static Creep), Flow Number Test (Repeated Load) and the Dynamic Modulus Test |E*|
"Magnetic-mounted" extensometers for deformation measurements
UniTest, the fully integrated software for control, data acquisition and real time monitoring, features a test wizard to guide the operator through each testing process
Real time graphic scope provides instant visual feedback of up to six channels of system data
Pressure vessel and temperature chamber integrated
High performance chiller quickly reaches desired temperatures, expediting sample preparation and testing durations to save time
SmartPave DSR
The SmartPave from Anton Paar is a dynamic shear rheometer (DSR) combined with a new Peltier heating system.
New easy-to-use software
Fully automatic temperature calibration (no water flow around sample)
Fast Peltier heating and cooling
SPT Asphalt Performance Tester
The InstroTek SuperPave Performance Tester (SPT) determines the performance of asphalt mixtures with respect to rutting and fatigue cracking.
Integrated hydraulic

testing machine incorporating a high performance hydraulic actuator, air-cooled hydraulic power pack, Control & Data Acquisition System (CDAS), a combined triaxial cell and environmental temperature control unit, all in one compact and affordable machine

 

Specifically designed to perform three tests developed under NCHRP projects 9-19 & 9-29, including the Dynamic Modulus Test that provides a stiffness value (E*) for the asphalt mixture; the Repeated Load/Flow Number Test that simulates different loading conditions from passing traffic by placing a repeated load on an asphalt sample until it flows; and the Static Creep/Flow Time Test that simulates a static load from stopped traffic by placing a steady pressure until the asphalt flows
SSDetect
Barnstead offers the Thermolyne SSDetect two-part system for determining the bulk specific gravity and absorption fo fine aggregate.
Directly measures the saturated surface dry (SSD) condition through an infrared detection system tuned to water
SuperPave AFG2Gyratory compactor
Pines AFG2 is its third generation gyratory compactor which incorporates the newest technology that laboratory technicians need in a gyratory compactor.
Built-in angle measurement capabilities
Designed to account for frame compliance and dynamically compensates for varying mix stiffness.
Internally stores results from 20 previous tests, including gyration number, specimen height, angle of gyration, consolidation pressure and sheer per gyration (optional)
testing equipment
ShedWorks Inc. manufactures laboratory and field asphalt mixture testing equipment for mix design, structural design, and construction quality control/assurance.
Three models of computer controlled testing machines and three models of automated sawing and coring devices
Testing machines available include an overlay tester, an indirect tension tester and a dynamic modulus hot mix asphalt tester, each of which have integral temperature control systems
Dynamic modulus tester can be used to test 4" x 6" cylinders of asphalt (cut and cored from a larger gyratory compacted specimen) to obtain modulus and phase angle
Indirect tension tester can handle 6-inch-diameter specimens and the overlay tester takes a small 3 x 6 beam made by cutting each side of a 6-inch core or gyratory specimen
Version of the overlay tester is also available for testing crack sealant materials