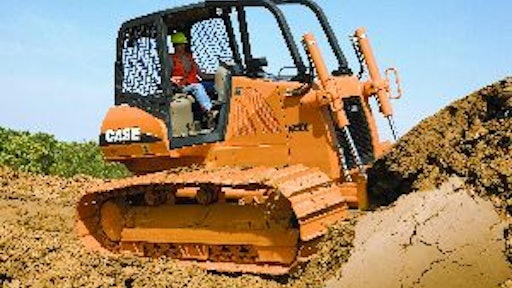 At the 2008 World of Concrete show, Case Construction Equipment showcased its new 1650L crawler dozer, as well as several upgraded product lines featuring the latest Tier III and Tier IV engine technologies.
First in its series
The 144-net-hp 1650L crawler dozer is the first model in the new L Series dozer lineup.
"The 1650L is a completely new machine from the ground up," according to Jim Hughes, marketing manager. "In addition to the powerful engine and hydrostatic transmission, it features a new cab design, low-effort electronic blade control and high-performance hydraulics for increased blade speed, superior blade force and precise control."
The unit features a Case Family IV Tier III-certified, six-cylinder, 6.7-liter turbocharged engine with electronic fuel injection, an electronically controlled, variable-displacement, dual-path hydrostatic transmission and an eight-roller undercarriage with a hunting tooth sprocket.
The hydrostatic drive includes electronic straight tracking with counter rotation and selectable settings for shuttle and steering, enabling slow, normal and fast control reaction. There are 10 speed settings with infinitely variable steering for maximum maneuverability with counter rotation. Single-lever control provides infinitely adjustable steering. Low-effort electronic blade control allows for simultaneous, multifunction control.
The 1650L comes in Extra Long Track (XLT), Wide Track (WT) and Low Ground Pressure (LPG) configurations with operating weights from 35,203 to 37,578 lbs.
Tier III enhancements
Case's loader-backhoes, skid-steer loaders and excavator lines are all benefiting from Tier III engine upgrades.
The new M Series 3 loader-backhoe line includes the 580M, 580 Super M, 580 Super M+, 590 Super M and 590 Super M+, with digging depths from 14 ft. 3 in. on the standard backhoe and up to 20 ft. 4 in. with the Extendahoe.
Case Family IV Tier III-certified, electronically controlled engines deliver 79 to 190 net hp. An optional new powershift transmission with three-speed reverse provides smooth, on-the-go shifting. Super M+ models also feature pressure-compensated, load-sensing hydraulics for improved fuel efficiency.
A new electronic auxiliary control for the loader allows precise, easy control of attachments. The rotary hand throttle and easy to operate foot throttle on Super M and Super M+ models make it easy to set the engine to the desired rpms. Additional features include the PCS "Pro Control System", auto-up stabilizer controls, outboard wet disc brakes and Ride Control.
The 400 Series 3 line of skid-steer loaders delivers clean-burning, more powerful engines on the Models 410 to 465, with ratings ranging from 57 to 83 net hp.
A primary focus of the upgraded series is operator comfort. New cabs feature a 7% increase in headroom and 6% increase in lap-bar width, along with improved all-around visibility, particularly in the front glass area. A suspension seat is standard, along with a cushioned lap bar with arm rest, new ergonomically designed control handles and a foot throttle. Also available is an optional pressurized cab and optional air conditioning, as well as a deluxe cloth heated seat with lumbar support.
In addition to the low-maintenance design and enhanced serviceability, the series offers exterior side lighting, a redesigned loader tower profile and optional pilot controls.
Ahead of the pack
In addition to Tier III certification of its CX130B excavator and CX135 and CX225 minimum swing radius excavators, Case has launched six Tier IV-certified models.
The CX27B, CX31B, CX36B and CX50B zero tailswing compact excavators are equipped with Yanmar Tier IV-certified engines rated from 21.3 to 39.8 net hp. Ranging in weight from 5,566 to 10,261 lbs, the units supply bucket digging forces up to 7,936 lbs. and maximum dig depths from 8 ft. 4 in. to 11 ft. 9 in.
The units also incorporate a hydraulically controlled backfill blade, three-post ROPS design or optional heated and floor-to-ceiling glass cab, swing-out access panels for ease of maintenance and ground line fluid fills.
The 17,468-lb. CX75 and 18,585-lb. CX80 minimum swing radius excavators feature Tier IV/Stage 1-certified Isuzu engines that deliver 54 net hp. Maximum dig depths are 13 ft. 7 in. and 13 ft. 9 in. with 12,792 lbs. of bucket digging force.
The CX75 is offered with an optional offset boom that allows it to dig directly against the sides of buildings, lot lines or other obstructions. The CX80 has a center-swing boom that can be positioned anywhere within a 130° arc. A backfill blade is standard.