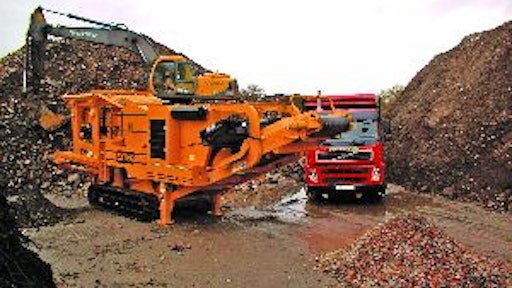 The new C-10+ is designed specifically for applications in small quarries, demolition sites and recycling facilities. With a working length of under 41 feet and an operating weight of 71,000 pounds, the C-10+ is powered by a 214-hp Caterpillar C6.6 diesel engine that meets all known emissions regulations.
A vibrating feeder ensures a consistent flow of material to the unit's 3' x 2' fully-adjustable and hydraulically-controlled jaw crusher. The C-10+ is designed for optimum uptime coupled with the lowest possible levels of maintenance. The jaw action can be quickly and easily reversed to free blockages while a "fast track" facility helps clear the machine of tangled steel reinforcing bar, a common cause of crusher downtime in recycling applications. The entire machine can also be raised hydraulically to facilitate cleaning and routine maintenance duties. In addition, the Extec C-10+ is supplied with SKF sealed-for-life bearings and an automatic jaw lubrication system as standard.
Doublescreen performance
The new S-4 track-mounted mobile screen provides optimum performance in a variety of materials including sand, gravel, coal, limestone, granite and construction and demolition waste.
Weighing 62,000 pounds, the S-4 is the smaller brother to the Extec S-5 and shares many of the features and benefits of its larger sibling. The Extec S-4 is powered by a Deutz BF4M 2012 diesel engine developing 100 hp that meets or exceeds all known emissions regulations. Despite its compact dimensions -?52 feet long by 55 feet wide in working configuration with the conveyors extended?- the Extec S-4 uses two independently-adjustable screen boxes to produce a screening area that is equivalent to a traditional 16' x 5' screening system. Driven and angled separately, this Extec Doublescreen system allows the first screen box to be used to remove fines in even the most cohesive materials, while the second screen box acts as a materials grader. As a result, the Doublescreen system is able to produce consistently precise material grades. To supplement the productivity and versatility of the Extec S-4, the unit is offered with a variety of optional extras including a remote control system, shredder box for green waste applications, and a vibrating grid.
Trimble CCS900 Compaction Control System
The CCS900 Compaction Control System allows operators to compact sub-surface material to a target density, analyze sub-surface grade post-compaction for deficiencies in the surface and catch grade control mistakes in real time prior to the start of the final roadbuilding process.?The unit can be configured for use with GPS+GLONASS satellites for centimeter-level real-time kinematic positioning and guidance or GPS base station-free capabilities using Satellite-based Augmentation Systems. Users of GCS900 Grade Control Systems version 10 or higher can configure the system using the same control box and existing on-machine components.
Heatec Waste Oil Pump
Viking and Heatec have worked together to develop a heavy-duty pump for waste oil. Designed specifically for pumping waste oil at hot mix asphalt plants, this pump is built to last longer than ordinary fuel pumps. The pump's abrasion-resistant construction includes rotor and shaft supported by dual ball bearings, tungsten carbide idler pin and bushing, and silicon carbide-faced mechanical seal. The pump is also furnished with a 3-hp motor.
Case 621E Wheel Loader
Case Construction Equipment has introduced the Case 621E wheel loader, the newest member of the E Series line. The 621E features an electronically controlled engine that provides increased efficiency and a new cab that offers greater operator comfort and visibility. The machine features easy access to fluid-level sight gages, centralized grease fittings, and daily service check points visible from ground level. A one-piece electric lift hood gives operators and technicians easy access to the entire engine area. Operators can match power and fuel economy to their application by choosing from among three power curves - max, standard and economy power - and four work modes: max, standard, economy and auto.
Dressta 560E Extra Wheel Loader
The 560E Extra has a Cummins QSX-15 turbocharged, in-line six-cylinder engine that generates 427 net hp, or up to 445 hp at minimum fan speed, thanks to its?variable-speed cooling fan. Features include a three-speed, full powershift, countershaft transmission, torque converter, front and rear drive axles and conventional differentials. Directional transmission and speed shifts are controlled by two levers at the operator's fingertips. Other features include hydrostatic steering, Z-bar linkage, and four-wheel, hydraulic, multiple wet-disc brakes (C-Series).
Paratherm LC System Cleaner
Designed for asphalt hot oil systems, Paratherm LC system cleaner works while the system runs and needs about two weeks or more in a running system to dissolve and suspend the sludge and carbon deposits that may have formed during routine operation. A 55-gallon drum is just right for a 500- to 600-gallon system; 5-gallon pails are also available.
Maxwell Systems American Contractor 7.6
Maxwell Systems offers American Contractor release 7.6, the latest version of its business management software solution for handling the complexities of the entire project lifecycle. It features Maxwell Systems Quest Estimator integration, which incorporates industry-leading takeoff and estimating capabilities with complete job cost accounting and project management processes. This creates an end-to-end solution that streamlines proposals, creates budgets and billing schedules automatically, generates purchase orders, and converts estimate data to buy-out.
Wirtgen W 60 Cold Milling Machine
The 29,211-pound W 60 is suitable for milling large surfaces and?removing entire pavement packages at full depth, as well as trench and channel construction.?Three- or optional four-wheel models available. Milling depths of 11.8 inches with a standard milling width of 23.6 inches are standard. The FCS quick-change?system allows?easy conversion to 15.7- or 19.7-inch milling drums without sacrificing the depth of cut. An optional HT11 quick-change toolholder system is available.
Cimline Tack Kettle
This new 500-gallon trailer-mounted unit joins a 250-gallon model already proven in road maintenance applications. The Tack Kettle is designed for high performance heating and application of bituminous emulsions and tack coats. A key feature of the unit is the staggered dual flue design that offers even, energy-efficient heating. Operator features include a 36" by 32" maintenance hatch, 50 feet of retractable material hose, a lightweight spray wand, and a new recirculation port. The Tack Kettle can be ordered with a direct drive hydraulic pump powered by a 5-hp Honda engine or as a no-pump gravity feed model.
Terex Pegson XR400 Jaw Plant
The new 1100 x 650 track XR400 is Terex Pegson's "new generation" hydraulic-release jaw plant, featuring the "M" Series single toggle design. This aggressive, high-swing jaw can accept large feed. Unit features up to 400-tph output and very low fuel consumption. The hydraulic folding feed hopper is designed for easy setup. Other features include excellent under-crusher access with underscreen feeder option; self-supporting hydraulic folding feed hopper with wedgelock system enables easy setup; and a Caterpillar C9 powerpack. Product conveyor discharge height is 13 feet; conveyor lowers hydraulically for transport.
Companies in this article