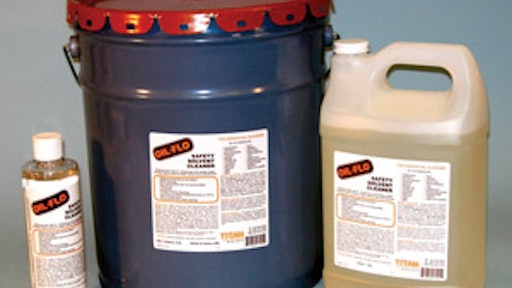 Titan Laboratories Oil-Flo Safety Solvent Cleaner
The non-volatile, non-foaming oil-flo safety solvent cleaner is a specialized product for removing organic stains such as asphalt, tar, oils, and more. Oil-Flo is a water-soluble liquid that has a slow evaporation. Once contaminants are dissolved, they can be washed away cleanly with water leaving no residue.
Desco D-600 Seal Coater
The Desco D-600 Seal Coater is powered by an 18-hp engine. It has rubber wipers on the agitator blades with forward and reversing agitation, a 6-ft. spray wand, and a 75-ft. material hose. The 6-in. "Z" series hydraulic pump operates at 10 gpm with load sense control. The tandem axle trailer has one set electric brakes. The D-600 also has an optional spray bar, seat, large deck, and extra hose.
Bobcat S100 Skid-Steer Loader
The S100 has a 1,000-lb. rated operating capacity and replaces the Bobcat 553 skid-steer loader model. It is ideal for construction work, demolition, and landscaping markets. The S100 has a narrow width of 50-in. with the bucket, a four-cylinder 33.5-hp diesel engine; 8-ft., 6-in. lifting height; and 4,110-lb. operating weight. It has a 6.5-mph travel speed and 13.1 hydraulic pump capacity for hydraulic attachments. Features include: spacious cab, easy-to-read instrument panel, and transversely mounted engine.
Equipt's Helix Blade Agitation
The Helix Blade is designed to provide more thorough mixing and reduce stalls when mixing sealer. It features a hydraulically driven blade with 3/8-in. rubber scrapers to ensure complete mixing of sand and emulsion and is available on Equipt's three models - PolyPro, EconoPro, and Econo - in capacities from 350 to 825 gals.
SweeperPartsOnline.com Hawg HoodSM
SweeperPartsOnline.com introduces its patent-pending, two-piece Hawg HoodSM replacement sweeping head. The Hawg Hood fits Schwarze S340-series sweepers. It has a powder-coated, safety orange color to help operators keep from hitting it on objects as well as making it highly visible for safety.
Kasi Patriot
The Kasi Patriot features a compact cab-over design, a chassis with a 48-sq.-ft. infrared pavement heater, a 2- or 4-ton capacity asphalt reclaimer, a compactor compartment, five propane tanks, and a dumping waste bin. The 12-volt battery system can be recharged directly from the vehicle or an overnight charging system.
SealMaster MasterSeal
MasterSeal is now available with MoistureGuard Technology that repels water and prevents absorption into the film providing a longer lasting pavement sealer.