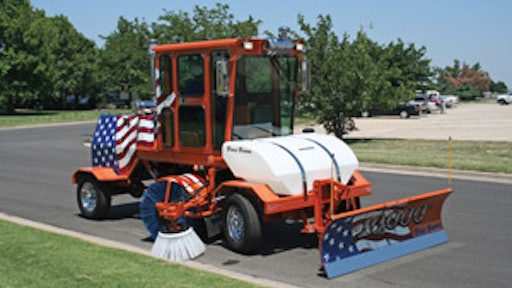 Broce Auctions 10,000th Broom for Charity
Broce Manufacturing generated $41,000 for four charities by auctioning this patriotic Broce RJ350 S/N 1000 - the 10,000th broom produced by the company owned by Bud and Dee Vance. Roy Thoele, a St. Charles, MO, contractor, bought the broom. Donations were made to both Oklahoma and Kansas chapters of the Salvation Army, American Red Cross, Make A Wish Foundation, and His Nets (which fights malaria in sub-Saharan Africa)
McCaskill named NAPSA president
Dale McCaskill, president of Southco Sweeping and Maintenance, Camden, SC, was recently elected president of the North American Power Sweeping Association (NAPSA) for 2006-2007 term.
Carl Barton, Aardvark Sweeping Service, Memphis, TN, is vice president; and James Dodson, Mid-State Industrial Service, Eugene, OR, is treasurer.
All three men recently presented seminars at the 2007 National Pavement Expo in Nashville.
In other NAPSA news the sweeping association, reduced its number of board members to seven (including officers). Current board members are Mitch Barkman, Buckeye Sweeping, Akron, OH; Uri Ben-Yashar, East Coast Lot & Pavement Maintenance, Pawtucket, RI; Gabriel Vitale, C&L Sweeper Service Corp., Jackson, NJ; and Chuck Wright, Raleigh, NC.
NAPSA also continues development of its committee structure. In addition to the standing Membership, Certification, and Marketing committees, NAPSA plans to launch four new committees this year: Insurance, Benefits, Environmental, and Education.
For more information on NAPSA contact Amy Allen at 269-383-6993 or visit www.napsaonline.com .
United Rentals sells traffic control business
In late December United Rentals agreed to sell its traffic control business to HTS Acquisition, an investment management firm, for $85 million.
United Rentals said it sold the traffic control business, which generated $270 million in 2005, to focus on its core business segments.
Lonestar Sealcoat starts STAR sealer production
Lonestar Sealcoat Supply, a Star Inc. licensee plant located in Houston, TX, has recently started manufacturing sealer. Wade Bailey, president, says he is optimistic about the future of Star sealcoatings in the region and is committed to serve the pavement maintenance professionals with sealcoatings and a comprehensive line of products and sundry items.
The company is located on the northeast section of Houston at 14041 Chrisman Road, Houston, TX 77039. Contact Lonestar Sealcoat Supply at phone 281-442-0050 or fax 281-442-0053.
Companies in this article