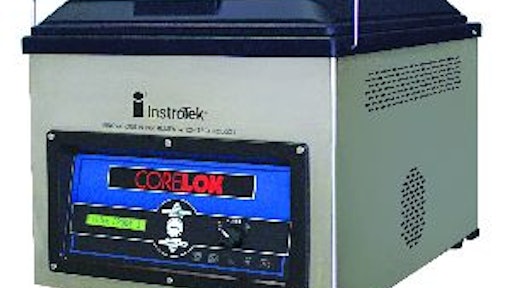 InsroTek CoreLok
InstroTek's CoreLok is a system for sealing asphalt samples so that the sample densities may be measured by a water displacement method.
Can perform six tests, including asphalt bulk and maximum specific gravities, air void content, asphalt porosity, aggregate bulk and apparent specific gravities and percent absorption
Tests take less than 20 minutes
Rogers Lowboy Trailers
The 55-ton-capacity Ultima Series features a 25-foot deck length, a 98-inch gooseneck swing clearance and a 20-inch loaded deck height.
Cambered main beams
No Foot self-lifting gooseneck
Options include self-adjusting front folding ramps, full center decking and hydraulic trap doors
TransTech Model 301 Pavement Quality Indicator
The Model 301 Pavement Quality Indicator is suited for use with
tender asphalt mixes.
Advanced software simplifies use
Easy-to-view screen for enhanced readings even in bright sunlight
Built-in mat temperature sensor
Density measured in percent compaction, percent air voids and segregation modes
Trail King Ultra Lite Series
The 9,900-pound Ultra Lite Series bottom-dump trailers feature overall lengths of 36 to 43 feet with payloads ranging from 22 to 26 cubic yards.
12-foot gate and 5' x 8' 10" hopper opening
Features include oscillating fifth wheel, telescoping pin-style landing legs, windrow reflector, remote variable control and bolt-on push block
ShedWorks Asphalt Testing Equipment
ShedWorks Inc. manufactures laboratory and field asphalt mixture testing equipment for mix design, structural design, and construction quality control/assurance.
Three models of computer controlled testing machines and three models of automated sawing and coring devices
Testing machines available include an overlay tester, an indirect tension tester and a dynamic modulus hot mix asphalt tester, each of which have integral temperature control systems
Dynamic modulus tester can be used to test 4" x 6" cylinders of asphalt (cut and cored from a larger gyratory compacted specimen) to obtain modulus and phase angle
Indirect tension tester can handle 6-inch-diameter specimens and the overlay tester takes a small 3 x 6 beam made by cutting each side of a 6-inch core or gyratory specimen
Version of the overlay tester is also available for testing crack sealant materials
Caterpillar B2 Series
The B2 Series includes six skid steers (216B2 to 252B2) ranging from 1,400- to 2,500-pound rated operating capacities.
Ergonomic operator stations include easy to use pilot-operated joystick controls
49- to 70-hp output
Advanced hydraulic system is designed for maximum power and reliability
Various cab and control options are also available
Bobcat Loader Radio Remote Control System
This?loader radio remote control system enhances the capabilities of Bobcat skid-steer and compact track loaders with selectable joystick controls and Bobcat all-wheel steer loaders.?
Radio remote control transmitter can?be used to start the loader and operate the drive, lift, tilt and?auxiliary hydraulic functions from approximately 1,500 feet away
Transmitter joystick controls activate joystick controls in the ISO control pattern
Easy switching between "remote" control mode and "machine/direct" control mode.
Roadrunner Grading Blade
The Grading Blade features a serrated cutting edge that will penetrate and crumble hardpacked materials.
Rear blade remains a standard curved motor grader cutting edge
Maintains smooth leveling characteristics operating on 5 1/2- or 6-foot skid bars with heat-treated wear strips
Side panels eliminate windrows, and twin blades operate on a slight angle to eliminate washboarding
Available with twin screw jacks or optional hydraulic tilt
Case 621E Wheel Loader
The 621E features an electronically controlled engine that provides increased efficiency and a new cab that offers greater operator comfort and visibility.
Easy access to fluid-level sight gauges, centralized grease fittings, and daily service check points visible from ground level
One-piece electric lift hood gives operators and technicians easy access to the entire engine area
Three power curves - max, standard and economy power - and four work modes: max, standard, economy and auto
Maxwell Systems American Contractor 7.6
Maxwell Systems offers American Contractor release 7.6, the latest version of its business management software solution for handling the complexities of the entire project lifecycle.
Quest Estimator integration incorporates industry-leading takeoff and estimating capabilities with complete job cost accounting and project management processes
Creates an end-to-end solution that streamlines proposals, creates budgets and billing schedules automatically, generates purchase orders, and converts estimate data to buy-out
Companies in this article