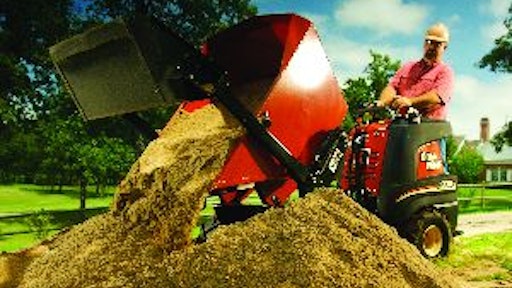 Ditch Witch Zahn Series
Ditch Witch introduces the Zahn Series, "a radical new concept - a new way of thinking about trenching equipment," according to Tiffany Sewell-Howard, CEO. Consisting of the R150, R230 and R300, the line combines independent power units with a set of compatible front ends designed to provide dedicated performance.
According to Kevin Smith, product manager, the line fits the company's long tradition of developing customer-centered products. "We developed the Zahn line to follow in the footsteps of our founder, Ed Malzahn … to carry on the tradition of meeting customer needs and providing solutions," he states.
With up to 30 hp, articulated steering and high ground speeds, the series certainly has the potential to get contractors rethinking how they approach trenching operations.
Measuring just 36 in. wide, all three Zahn models are designed to get in, out and around the tightest jobsites. Their fully hydraulic, articulated steering provides added maneuverability, enabling the operator to easily trench a curve around obstacles in his or her path.
A large, elevated ride-on platform provides an unobstructed view of the work area, plus absorbs shock, minimizes fatigue and keeps the operator out of dirt, mud and debris. The control console features soft-touch, color-coded, ergonomic controls that are designed to be easy to grip and easy to learn, while providing smooth operation.
The two-wheel-drive R150 power unit is equipped with a 15-hp Honda gas engine that drives a trencher front-end. Because the weight is concentrated on the digging chain, it penetrates the ground more easily and enhances overall stability.
Productivity is further enhanced by ground speed that is optimized for trenching. The cruise control feature (standard on all models) locks in ground speed, enabling the operator to pay attention to the work that he's doing, notes Smith.
The R150 is available with an optional hydraulic auger that runs independent of the headshaft to reduce the amount of carryover. It can also be equipped with the Roto Witch for boring under sidewalks and other obstacles.
The 23-hp R250 and 30-hp R300 offer Kohler gas engines, and are available in two configurations. A two-wheel-drive version powers two types of front-end trenchers, while a four-wheel-drive InterChange version accepts up to seven types of front ends, including a trencher, plow, dumper, tiller, backhoe, stump grinder and a tool carrier capable of driving more than 40 quick-change attachments.
According to the company, ground speed is up to twice that of a pedestrian trencher, and faster than many mini skid steers. Selectable ground drive speed ranges enable the operator to choose the optimal speed and controllability for different applications. The traction-assist feature provides extra torque on demand, enabling the units to push more, pull more and traverse soft ground with minimal tire slippage.
Both models are available with optional dual wheels and 20-in. urethane-filled, flatproof tires for added productivity and stability on slopes.
The Zahn series will replace Ditch Witch's 1820 pedestrian trencher and 255SX vibratory plow. Despite the added capabilities vs. their predecessors, Smith asserts that the new units are comparably priced with traditional trenchers in their size class.
"The concept of the Zahn is about giving [customers] a
versatile machine without giving up performance and functionality," he adds.
JLG G5-18A Super Compact Telehandler
JLG introduces the G5-18A Super Compact Telehandler designed for landscaping, construction and municipal projects. Powered by an 84-hp Perkins engine, the G5-18A has a maximum capacity of 5,500 lbs., maximum lift height of 18 ft. 4 in. and maximum forward reach of 10 ft. 10 in. It has an operating weight of 10,800 lbs., a 16-mph travel speed and a boom cycle time of 21 seconds. With a 126-in. turning radius and compact dimensions, the G5-18A can fit where other machines can't. Unit features Lift/Loader mode: a switch in the cab allows the operator to choose between Lift Mode (joystick L/R will move boom in/out) or Loader Mode (joystick L/R will tilt attachment up/down). G5-18A accommodates universal skid steer attachments.
Vermeer S400TX Mini Skid Steer
The new Vermeer S400TX mini skid steer features a 23-hp gas engine. Two joysticks, which control transport and boom/bucket motion, can be operated while holding onto an integrated hand-grip bar. Unit has a rated operating capacity of 500 lbs.
Gorman-Rupp Prime Aire Pumps
In addition to John Deere and Deutz engine variations, the Prime Aire priming-assisted pumps can now be powered by Caterpillar engines. Suitable for sewage bypass operations, construction site dewatering and other applications where intermittent flow can be a problem, Prime Aire pumps feature a patented positive priming system that virtually eliminates leaks, reducing environmental concerns and providing the ability to operate under flooded-suction staging conditions.
Bomag BW177-40 Rollers
Bomag introduces the BW177-40 Series single-drum vibratory rollers. Redesigned to provide better access to service points and improved operator ergonomics, there are three models to choose from: BW177D-40, BW177DH-40 smooth drum rollers and BW177PDH-40 padfoot roller. Units feature 66-in. working widths and are powered by Cummins diesel engines.
Manitou MRT 2150P Rotating Telescopic Handler
Manitou North America launches its latest model, the MRT 2150P. Changes include a 150-hp Tier III Mercedes engine and improvements to the opertor's compartment. Unit offers a 10,000-lb. capacity with 67 ft. 7 in. of height as well as continuous rotation and frame leveling for easy placement of loads on any jobsite. A hydrostatic transmission, fully enclosed cab and Manitou Safety System are standard. Other features include a forward reach of 59 ft. 8 in. and four-wheel drive.
Wright Sentar
Featuring a unique sit/stand design, the Wright Sentar zero turning radius mower weighs up to 300 lbs. less than similar units. Padded seat with mono-spring suspension folds down for operation from a sitting position or folds up for stand-on operation. Cutting height can be adjusted rapidly and easily from the driver's seat or standing platform using the Rapid Height adjustment control. Operator Balance Control (OBC) lets operator shift weight instantly as terrain changes. The Sentar is available in 48-, 52- and 61-in. deck widths with engines ranging from 19 to 25 hp.
Turf Teq 1304 Power Edger
Turf Teq introduces the Model 1304 Power Edger featuring a 10-hp Briggs & Stratton engine. This self-propelled walking forward bed opener comes standard with an opening blade to create new landscaping beds or redefine existing beds. Various trenching blades are available as an option. All three of these functions can be performed by simply changing the blade and guard for each application. Unit features a fully hydrostatic transmission with forward and reverse.
Yanmar Vi017 Mini Excavator
Yanmar's new 3,836-lb. operating weight Vi017 offers true zero tailswing. The variable undercarriage offers no overhang, which allows the unit to work right up against walls. New three-pump hydraulics provide smooth operation. Dip depth is 7 ft. 7 in. and engine output is 13.5 hp. Variable tracks allow narrow access at 3 ft. 1 in. then expand to 3 ft. 11 in. for more stable operations.
General Equipment FCS5 Rip-R-Stripper
The FCS5 Rip-R-Stripper is an electric-powered, hand-held floor covering scraper for work in smaller, confined areas. Unit removes carpet, tile, linoleum, mastics and more. With a 5-in. cutting width, the FCS5 cuts at 2,500 oscillations per minute and operates on a standard 115-volt power source with a 1.2-hp electric motor.
Aim HL Quick Couplers
New Hydra-Lock (HL) hydraulic quick coulers from Aim Attachments are designed for use with OEM-configured attachments. Couplers feature simple design in which no pin removal is needed for an easy exchange of various attachments. Features include one-person operation; no special modifications for buckets, hammers, rakes or rippers; durable lifting hook; built-in safety check valve; and multi-position manual safety pin.
Stone Groutzilla
The PTO-driven Groutzilla placement system easily places grout and masonry mortar in blocks, walls, forms and foundations. The Groutzilla handles 20 cu. ft. of material, including most slump, comes with a replaceable steel hopper which swivels on heavy-duty roller bearings, and features a self-wiping Talet auger system with reinforced, composite polymer flighting that prevents binding due to various aggregate sizes. Unit offers a positive hydraulically controlled shutoff valve and heavy-duty fork pockets that fit any size telehandler or forklift.
Terex T360 Generator from Genie
Terex is launching a new powerful generator - the T360 Super Quiet unit, which is powered by a 426-hp Cummins diesel engine and offers Tier III compliance. The T360 offers 288 kilowatts of prime electrical output. Unit comes standard with a permanent magnet generator (PMG) that provides a fast response to changes in load, resulting in better voltage regulation for motor starting and non-linear loads. Fuel capacity offers operators 24 hours of continuous operation on one tank of fuel.
Kraft Hi-Craft Texture Gun & Hopper
The new Hi-Craft texture gun & hopper is molded from high-impact plastic. Unit sprays various drywall textures including stucco and decking material. Gun comes complete with two air nozzles, adjustable orifice plate for texture adjustment, locking trigger system for less fatigue and large two-gallon hopper. Hopper has a built-in angle for maximum fill and operates on 6.25 cfm free air at 25 psi.
Miller Electric XMT 350 MPa Multiprocess Inverter
The new XMT 350 MPa from Miller Electric is designed for pulsed MIG welding in portable applications. With built-in programs for common and highly alloyed metals, operators can easily adjust puddle fluidity and arc length. This is the first pulsed MIG unit designed for use with voltage-sensing suitcase wire feeders.
Riveer Cyclonator Deuce
The lastest addition to Riveer Environmental's line of filtration systems, the Deuce comes enclosed in a 7' x 7' powder-coated heated lockable enclosure. Inside is a completely automated heavy mud handling filtration system. Features include automatic self-purging settling tanks with pressurized purge; automatic back washing high-pressure industrial media filter; 24/7 ozone or bacteria injection; absolute filtration to 7 micron; and zero button operation pressure washer gun activates recovery. Unit features a capacity of 25-gpm process rate (internal) with a 600-gal. holding tank.
Allianz Madvac LT500
Allianz Madvac's LT500 litter collector provides high-volume litter collection in hard-to-reach areas. Features of the LT500 include a joystick-controlled robotic vacuum hose arm, an ergonomically designed operator cab, straight-through suction with no restrictions, a patented No-Jam fan, and dust suppression in the hopper.
McCormick Silt Fence Plow with Rotary Offset Design
McCormick Equipment introduces its rotary offset Silt Fence Plow. The new design allows the machine to be offset to either side by pulling two pins and rotating it over. The rear pivot design pivots 90 degrees to provide the tightest turning radius in the industry. The rotary offset unit will install 48-in. and smaller fabric down to 20 in. deep. Features include a 1-in.-thick blade, spring-loaded cutting coulter, transport lock, swing-dampening cylinder, drop-down storage legs with pads, replaceable blade point, fabric tension spring and forklift slots. Available for skid loader and three-point hitch mountings.
Cart-Away MixKing Concrete Trailer
The 1.75-yd. MixKing concrete trailer maintains all the features of the standard Cart-Away 1-yd. trailer. It offers fully 50 percent more capacity than the standard mixing trailer and features hydraulic rotation and tilt and large internal mixing blades. Unit can carry wet mixed or dry materials, it dumps into full-size wheelbarrow and is operator controlled from the rear panel.
Coneqtec Universal SC Stump Grinder
The Coneqtec/Universal SC stump grinder has a patented offset design that provides better visibility and diverts debris away from the operator. The new design features an extendable cutter head arm. Other features include direct-drive high-torque motors; high or standard flow available; controls swing into operator's compartment; and roller-mounted base eliminates need for individual stabilizers and turf destruction.
Elvex QuieTunes Ear Muffs
The Elvex QuieTunes AM/FM ear muffs feature rechargeable nickel metal hydrate batteries, but can use regular alkaline batteries in an emergency. Headset is equipped with an auxilliary input jack to connect i-Pod or MP3 player. Radio offers FM and AM reception. Unit automatically shuts off after four hours.
Grex PPN65 Nailer
Designed for fastening various types of pre-punched hole metal connector hardware to wood, the Grex PPN65 compact, lightweight nailer offers access into tight areas and corners. Drives both 1 1/2- and 2 1/2-in. length nails. Unit can be used for fastening joist hangers on decks, truss ties, floor truss hangers and more.
Atlas Copco SB 552 Breaker
Atlas Copco Construction Tools introduces the SB 552, the largest model in its new generation of SB hydraulic breaker attachments. For demolition, road construction, building renovation, foundation work, trenching, landscaping and secondary breaking, the 1,149-lb. unit delivers a maximum impact rate of 1,080 bpm and requires oil flow of 17.2 to 30.4 gpm at a pressure range of 1,450 to 2,180 psi. The solid body concept of the SB range features a one-piece design that contains all integral parts in the same iron alloy casting for strength and reliability.
Lincoln Electric LN-25 PRO
Lincoln introduces the LN-25 PRO for field construction, fabrication and rental applications. Available in standard and extra torque models, the LN-25 PRO includes a gas solenoid and flow meter to run both flux-cored and MIG wires. The extra torque model features additional torque gearing for reliable feeding of large diameter flux-cored wires.
CS Unitec END 712 P "Mini" Diamond Drill
The END 712 P "Mini" Diamond Drill from CS Unitec is ideal for drilling dowel, anchor and thru holes in concrete, tile and natural stone. With zero to 8,000 rpm variable speed and 6.3-amp motor, this unit weighs 5 lbs. and features water-cooled diamond bits that drill 5/32" to 3/4" diameter holes. Other features include a built-in water swivel with hose connection and valve, a keyless chuck and depth gauge. Designed for use on gravestones, countertops, plumbing and other masonry needs.
LDC UniLift Boom Lifts
UniLift trailer-mounted, battery-powered boom lifts offer working heights up to 42 ft. and now offer an easy set-up option for the Model 538 and 542KB trailer-mounted personnel lifts. This new feature offers a power jack option used in conjunction with the jack outriggers, substantially reducing the manual effort required to set the outriggers. Available in telescopic and articulated models, features include 360-degree effective coverage and quick conversion for use as a universal crane. A power jack setup option allows for quick and easy outrigger setup. Boom lifts weigh less than 3,000 lbs. to tow behind a pickup truck and can be easily maneuvered in and out of tight work spaces.
Brouwer Model TR224 Turf Roller
The Brouwer Model TR224 features lever-assist steering for exceptional maneuvering and single-lever F-N-R clutchless transmission. Powered by a Honda 5.5-hp engine, the Model TR224 has rounded-edge rollers to prevent turf damage and 24-in. wide rollers for easy access to narrow paths. Each roller has two fill-drain plugs.
EDCO DS-18 Concrete & Asphalt Saw
The DS-18 features a 13-hp gasoline engine or 5-hp electric motor with a heavy-duty, anti-vibration engine mount; a 7-gauge, solid-steel frame; 18-in. blade capacity with dual-arbor cutting along with lifting handles; a lifting bail and perfect balance. Perfect balance is key to perfect performance, long blade life, smooth, even cuts and it eliminates excessive wear and tear on the machine.
Stahl Utility Service Van (USV)
The Stahl USV is available in a cab-height model for applications requiring a smaller footprint or where vehicle height is restricted. This "mobile enclosed work station" is a corrosion-resistant, all galvanneal steel body with standard features including 10 ft. of interior storage; rear conduit doors; interior access to horizontal compartments and full-length interior shelves; added security with rotary bar locks that secure all side compartments; climate control bulkhead that features a sliding door to separate the cargo area from the chassis; and a drop-step bumper to ease stepping in and out of rear cargo area
Bil-Jax X-Booms
The new Bil-Jax X-Boom self-propelled lifts offer drive speed and four-wheel-drive capability. Hydraulic outriggers have replaced heavy counterweights, allowing users to setup and begin using the lift in less than 30 seconds. Units are light enough to fit on a trailer and to be towed by a mid-size SUV or pickup; no CDL is required.
Diamond Products Concrete Polishing Tools
Diamond Products offers a new line of polishing tools and equipment designed to make concrete counter tops and floors shine while helping distributors take advantage of the profitable and growing decorative concrete market. The DS175 and DS 301 hand-held polisher units as well as the DSDS302 single-head walk-behind polisher and DS605 dual-head units have joined a selection of dry and wet resin polishing pads and cup-grinding discs. The line now also includes the DS301HD and the Edge Pro counter top edging machine. Other new items include an expanded selection of wet grinding discs as well as polishing pads for concrete, marble, granite and hand pads. Router bits are available to work with the Edge Pro edging machine.
Allmand SIS 1250 Super Illumination System
Allmand's SIS 1250 Super Illumination System features 1,250-watt lamps that produce 150,000 lumens, a 30-percent increase in light output and 20-percent increase in coverage area over Allmand's 1,000-watt system. Designed for use in Allmand's exclusive SHO parallel lamp fixtures, engineered for mobile applications, the system delivers enhanced color index light quality for better visibility and safety on jobsites.
Ingram RP915B Pneumatic Roller
Ingram Compaction offers the RP915B nine-wheel, rigid-f¬¬¬¬rame pneumatic roller with all-wheel oscillation for compaction on uneven surfaces. Unit is powered by a four-cylinder Cummins diesel engine and features zero to 8-mph working speeds and up to 16-mph travel speeds. Features include sliding seat with 180-degree rotation, standard ROPS and a ballast to 30,500 lbs. with wet sand.
Arrow-Master F-Series Trowels
The F-Series walk-behind power trowels have a direct-drive gear case and lower center of gravity that provide consistent, reliable power with less wobble and side torque, allowing for a smoother, flatter finish with easier handling. A fully enclosed spider assembly protects the blade-arm and pitch-control components and allows for faster and easier cleanup. Available in 30-, 36- and 46-in. diameters with a wide range of engines and horsepower ratings, the F-Series features an electric deadman switch and heavy-duty gear case standard.
Companies in this article