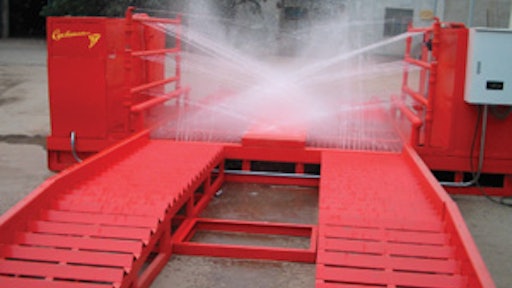 Riveer Cyclonator DCX-40T
The new Cyclonator DCX-40T portable wheel wash features durable, heavy-gauge steel construction, simple operation, and is easily moved to and from jobsite via flatbed truck.
Drive-through unit washes the wheels and undercarriage of trucks and equipment up to 20 tons with 300-gpm flow and 60 psi of pressure which is optimal for washing mud, clay and stones from wheels and undercarriage
Water loss due to drive off and overspray is minimal and driver's view is not impeded during wash
Holding tanks supply 800 gallons of washwater which is recycled for use
Can be operated with 460-volt three-phase power or dedicated genset
Systems Equipment Model xADP-GUI
Systems Equipment Corp. offers the optional Model xADP-GUI Graphics User Interface designed as a Windows-powered, graphic-enhanced user interface to its ADP-100 Drum Mix Process Computer.
Includes a consumer-grade PC, full alpha numeric keyboard and mouse
Connects to user's ADP-100 with a single high-speed serial cable
Displays meaningful plant information in both text- and graphics-based formats
American Highway Products I.D. Locator
American Highway Products' I.D. Locator pops up after paving to easily identify utilities.
Developed from a new recyclable elastomer, which adheres to any surface and pops up after being paved over with up to 5 inches of asphalt
Ends time-consuming painting and measuring
Prevents inaccurate post-paving searching procedures
Replaces costly surveying and marking
Burchland XT-Series Silt Fence Installers
Burchland introduces its XT-Series silt fence installers.
Installs 36- to 48-inch erosion control fabric
Three-point hitch or quick-attach plate for mounting on tractors or skid steers
Installs fabric to depth of 20 inches
Other features include transport lock, compression centering springs, solid-steel hinge with 1-inch pin, drop-down storage stands with pads and more
instALERT Rapid Messenger
The instALERT Rapid Messenger from All Traffic Solutions is an ultra-portable variable message sign that can be mounted using hitch receiver, portable or stationary pole, or a trailer.
Unfolds from a 3" x 28" x 30" carrying size to a display size of 2.3' x 5'
Stores up to 25 preprogrammed text/graphics messages
One, two or three lines of text, depending on letter size; messages up to three panels each
PSC Solar Message Centers
User's of Precision Solar Controls' (PSC) Solar Message Centers have the ability to change the message on the boards.
Powered by solar energy and using LED technology allows the message to be more clearly legible from greater distances
Three models
Various accessories available, including a NTCIP base station, radar antenna and pintle hitch
Topcon G3 Technology
Topcon introduces G3, its groundbreaking new technology for satellite positioning systems.
First satellite receiver technology with Universal Signal Tracking, a system capable of tracking all signals from all three satellite positioning systems: GPS, GLONASS and Galileo
When these three satellite systems are fully operational, users of G3 products will have access to over 80 positioning satellites
To process multiple signals from multiple satellite systems, system uses the Paradigm-G3 chip, which is capable of receiving various carrier frequencies and civilian codes
WCI Time Guard System
The Time Guard System is a portable, biometric time clock designed especially for the construction industry.
Battery operated and weather resistant
Provides ability to track employee from job to job, track separate job tasks, track change order labor and speed up payroll process
Employees place finger on verification scanner to clock in and out or to enter job tracking information
Eliminates "buddy punching," badges, tickets and time cards
1-800-PAVEMENT
1-800-PAVEMENT is a vanity number for asphalt contractors.
For a monthly fee, all calls to 1-800-PAVEMENT in the area codes that you do business in will be routed to your telephone
Ownership allows you to have exclusive rights to the number in your region, membership in a Pavement Network that shares work throughout the country, a free marketing plan, and call detail reports