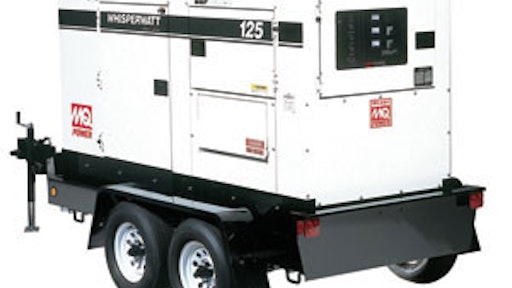 The next generation of WhisperWatts, MQ Power's Ultra-Silent Series generators feature patented soundproof housing. With sound levels from 56 to 63 dBA full load at 23 ft., the generators are up to 11 decibels quieter than the current WhisperWatt line. There are six single/three-phase models in the new series, with outputs ranging from 25 to 150 kva.
Manitou Twisco SLT 415 Telehandler
The three-wheeled Twisco SLT 415 rough-terrain telehandler is light, compact and easily transportable. Unit features an 88-in. turning radius, 75-in. overall height with a 66-in. overall width,13-ft. lift height and 3,000-lb. nominal capacity. The Twisco is transportable on a trailer towed by a light commercial vehicle.
Honda iGX Engines
Honda is introducing a new generation of intelligent computer controlled iGX general purpose engines that will feature an integrated engine control module (ECM) that controls key aspects of engine operation. Scheduled to launch later this year, the new engines will be designed for commercial and residential power equipment applications.
Volvo ECR Short Swing Compact Excavators
Volvo Construction Equipment introduces four short swing compact excavators designed for restricted-space jobsites. The ECR28 and ECR38 models offer a counterweight that turns within the track width. The ECR58 and ECR88 feature offset digging. Power is supplied by Volvo diesel engines. Each machine offers a spacious operator environment with adjustable suspension seat and 360-degree visibility from the cab.
Lull Model 1044C Series II from JLG
The Lull Model 1044C Series II features 80 in. of horizontal boom travel. Unit also has a 10,000-lb. maximum lift capacity with a maximum lift height of 54 ft. and a 3,000-lb. maximum lift capacity with a maximum forward reach of 38.5 ft. with the transaction retracted. Unit is powered by a 115-hp John Deere diesel engine that is Tier II compliant.
Bomag BW166-3 Rollers
Offering a 66-in.-wide drum, the new Bomag BW166-3 single-drum vibratory roller series includes two models: the 11,795-lb. BW166DH-3 and the 12,523-lb. BW166PDH-3. Standard equipped with dual vibration amplitudes, the units produce up to 24,750 lbs. of centrifugal force in high amplitude and 12,375 lbs. in low amplitude. Both rollers feature 75-hp Deutz air/oil-cooled diesel engines and fully hydrostatic travel and vibration drives.
Rentalresult Software
rentalresult from Result Group Inc. is an integrated business management solution designed specifically for rental businesses. rentalresult delivers total control and visibility of all assets, with integrated financials, CRM and reporting. Features include a user-friendly GUI interface and customization to fit desired operational and financial processes.
Miller XMT 350 VS
Miller Electric Mfg. Co. introduces the XMT 350 VS inverter. Offering both constant voltage and constant current, the XMT 350 VS has all of the features of the XMT 350 CC/CV multiprocess inverter except for its remote control capabilities and auxiliary power option. Like the CC/CV version, the XMT 350 VS features Auto-Line primary power management technology and a 5- to 425-amp output. The XMT 350 VS provides 350 amps/34 volts at a duty cycle rating of 60 percent.
Deere Compact Track Loaders
The new Deere CT 322 and CT 332 compact track loaders feature a two-speed transmission, hydraulic Quik-Tatch, self-leveling bucket, high-flow hydraulics and HVAC system. Powered by 62- and 76-hp engines respectively, units offer operating weights of 8,305 (CT 322) and 10,825 lbs. (CT 332). Boom breakout forces range from 3,410 (CT 322) to 6,650 (CT 332) lbs.
Kubota L39 Tractor-Loader-Backhoe
The loader on the L39 delivers 3,560 lbs. of breakout force, 2,200 lbs. of lift capacity and 9 ft. 6 in. of lift height. The curved boom has a maximum 10-ft. digging depth, 5,825-lb. bucket breakout force and a lifting capacity of 1,235 lbs. Other features include a 39-hp Kubota diesel engine, electronically controlled, hydraulic Glide Shift Transmission and auto-leveling valve on the loader.
Perkins 402C-05 Engine
Perkins' 402C-05 two-cylinder compact engine produces 13.7 hp. Units offer reduced noise at low idle speed of up to 5 dBA and meet Tier II, Stage II emissions requirements.
Bobcat T140 Track Loader
The 6,424-lb. T140 small-frame radius lift path loader from Bobcat is just 56 in. wide and 124 in. long with bucket and has a 1,400-lb. rated operating capacity. The turf-friendly lug track provides a 5-psi ground pressure. Unit features a 16.9-gpm auxiliary hydraulic flow and 46-hp liquid-cooled diesel engine.
Ammann AVP 1033
Ammann's new AVP 1033 single-direction vibratory plate is designed for compaction work in confined spaces, laying of light paving stones and light to medium road repair work. Features include a foldable handle, 119-lb. operating weight and optional water sprinkler system with 1.1-gal. capacity.
Point-of-Rental Enterprise Release 8
Release 8 from Point-of-Rental introduces features including task list, POR tips, contract snapshots, mass faxing of statements, mass e-mailing of statements and simultaneous imaging and OCR reading of driver licenses. Other improvements include credit card encryption, more salesperson efficiency reports, the ability to reprint G/L entries for any date selected, an improved continuation billing routine and other features designed specifically for multi-store environments.