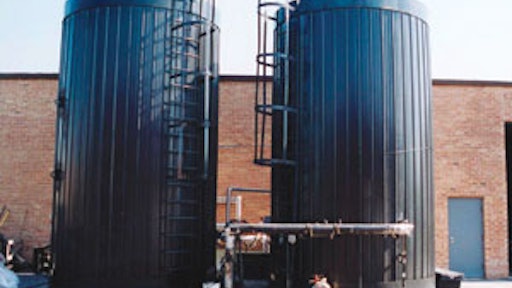 SealMaster Storage Tanks
SealMaster's heated asphalt storage tanks are designed for paving grade asphalts, roofing asphalts and asphalt emulsion.
1/4-inch plate steel construction
4-inch-thick mineral wool insulation
Thermostatically controlled
Can be customized
AESCO/Madsen Storage Tanks
AESCO/Madsen manufactures a complete line of stationary, portable and vertical apshalt storage tanks.
Capacities range from 10,000 to 30,000 gallons
Thoroughly insulated with an aluminum cover
Mounted on a rugged structural underframe
Engineered to meet contractor's requirements
Can be supplied with unitized electric heat, coiled or direct-fired systems
Automatic temperature controls, hi-level and low-level shutoffs and optional tank mixers
Heatec Vertical Tanks
Heatec's vertical tanks are insulated 6 inches on the sides, 6 inches on the top and 3 inches on the bottom.
Insulation has an R-value of 17 at an asphalt temperature of 300 degrees F
High- and low-limit switch inside tank features a three-way control valve with electric actuator; if asphalt temperature falls to a preset level, the agitator will not operate, which prevents the mixer motor from burning up or breaking the shaft or impellers
Models are available in capacities ranging from 10,000 to 35,000 gallons
Burke Vertical Tanks
Burke Heating System's vertical tanks offer a smaller footprint than horizontal tanks.
Manufactured with a square top much like silos, allowing 30 percent more working area on top of the tank
Skids are on tanks to allow the bottoms to be insulated
Pre-piped suction and drain to easily empty the tanks when changing liquids
E.D. Etnyre Vertical Tanks
Etnyre vertical tanks are designed for filling smaller street patcher and maintenance-type units.
Units offer a 7,000-gallon capacity, gravity discharge and fully automatic electric heat controls
Insulated and jacketed
Electric-driven emulsion agitation system
Optional electric pumping system available
Hotmix Split Asphalt Tank
The HMI 30,000-gallon split asphalt tank includes a mixing package for each side of the split tank.
2,000,000-Btu hot oil heater is mounted on the gooseneck
General Combustion Hy-Way Tanks
Hy-Way asphalt and polymer tanks are designed for complex liquid storage requirements.
Vertical, horizontal or portable configurations
Capacities from 1,000 to 50,000 gallons
Large heat exchange coil surface
Serpentine and helical coil designs
4 inches of fiberglass insulation to maintain optimum operating temperature
"Hard hat" cap design prevents damage to the tank surface and allows easy access to the coil through a 20-inch, quick-opening manhole with energy vent
Safety suction system prevents the liquid level from dropping below the heating coil, yet allows complete emptying of the tank
Internal vent and overflow system prevents overfilling and condensing vapors from collecting in the insulation during truck unloading
Reliable Asphalt Products Storage Systems
Reliable Asphalt Products offers a full line of liquid asphalt and emulsion storage systems.
1,000 to 1,000,000-gallon capacities
Liquid AC and emulsion systems are fully capable of handling straight AC, PMAC and Superpave mix designs
Available in portable, stationary, skid mount and vertical arrangements with options for hot oil heat, electric and direct-fired systems
Temperature controllers and optional agitation systems are also available
Built UL-approved with the steel components and wrapped with industrial strength insulation and a heavy-duty stucco skin
Coil surface for maximum heat transfer
Internal and external ladders
ADM Tanks
Asphalt Drum Mixers (ADM) offers several styles of asphalt tanks.
Direct-fired units are available in 10,000- to 30,000-gallon capacities at 450 to 600 Btu/hour and come standard with submersible firing tubes and scavenger coils
Coiled with hot oil heater units are available in 15,000 to 30,000-gallon capacities and come standard with 1,000,000 Btu/hour heater and serpentine coils
Both types include optional portability packages and multi-fuel burners
Meeker HCS Heating Capsule
Meeker Equipment Co. offers the HCS heating capsule system, which is a fully integrated system incorporating normal storage tank features plus the exclusive fuel oil manifold system.
Heats reclaimed oils for utilization
Unique design provides a reservoir of preheated oil at the designated set point resulting in tighter temperature control
Tank is ruggedly constructed with flanged fittings, '-inch steel base and sidewalls
Heating capsule with fuel manifold portion can be sold as a new system complete with tank or as a retrofit to existing storage system
Dillman Tanks
Dillman Equipment Inc. manufactures a complete line of liquid AC handling equipment.
Stationary, portable, skid mount and vertical configurations
15,000- to 35,000-gallon capacities
All steel construction with double welded seams
Heavy grade insulation
Dent-resistant stainless-steel skin
Optional agitation systems for special mix design requirements
Factory installed level indicator
Top access manhole with OSHA ladders, handrails and walkways
BDM Engineering Tanks
BDM offers stationary or portable asphalt tanks featuring heavy construction.
Three types are available: direct fired, coiled or electric
Capacities range from 10,000 to 30,000 gallons
PHCo flanged Immersion Heater
Process Heating Co. (PHCo) offers a new heater that is designed for tanks, large vats and reservoirs.
Standard 150- or 300-pound flange for mounting
Exclusive heating elements allow the elements to be serviced or replaced without draining the tank
Low watt density keeps the element sheath temperature low, reducing the chance of coking or heater build-up
Flange and heater tubes are made of either mild- or stainless-steel depending on the application
Supplied with custom, U.L.-listed control panels integrally mounted and wired to the heaters or without controls
Kilowatt ratings up to 1000 kW
Watt density up to 200 watts per square inch
Immersion length up to 20 feet
Companies in this article