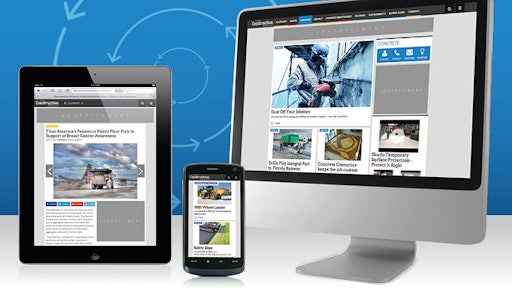 The new look at ForConstructionPros.com is designed to improve your experience no matter how you come to the site or what you're looking for. 
Our new format is what web insiders call "responsive design," meaning the site recognizes the device you're using to access it, and adapts to present our content in a natural way no matter if you're viewing it on a desktop, laptop, tablet or smart phone.
The content you've come to rely on hasn't changed, but every page you look at is now organized to offer a wealth of related content. Each article scrolls into more articles on the same subject; each product item is followed by coverage of more new or used products in the same category.
Now our navigation tabs -- Asphalt, Concrete, Equipment, Pavement Maintenance, etc. -- present all the articles, news, new products, videos and more related to those key vocations. Don't miss the insights on running your business and sustainable construction in those tabs.
Our Buyers Guide now includes a broad selection of used equipment for sale, along with the most comprehensive coverage of new product introductions in the construction industry.
Keep an eye on our Conexpo tab, as we scour the construction industry for news, new product information, and show-planning insights leading up to the biggest event coming to North America in early March.
I'll be keeping an eye on the comment box below to find out what you think of our new look.