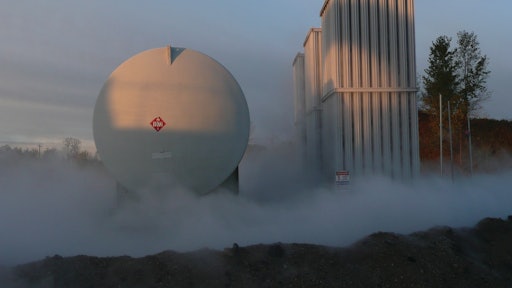 Asphalt contractors in Minnesota beat back the consequences of a wet spring this paving season thanks to converting their plants from petroleum-based fuels in favor of liquid natural gas, a move that is yielding significant financial savings while being more kind to the environment.
"I've been telling anyone who would listen: Convert your system to LNG," says Don Debelak, an LNG specialist and field expert for Lubrication Technologies who works directly with operators. "Try it, and you will see the results. Now that some quantitative numbers are starting to be released, customers see  a huge payoff." 
What paving contractor Mueller & Sons, of Hamburg, MN, has experienced this year is a prime example of the dramatic benefits that come with converting to LNG.
"We're running hotter, faster and cleaner," says Tim "Bubba" Rohde, asphalt plant operator in Belle Plaine for Mueller & Sons. "It's all about running consistently and reaping those rewards."
An unusually wet spring kept the asphalt industry from getting out of the gate quickly, but the recent conversion to LNG helped Mueller overcome that – and then some.
"We had some catching up to do, so I noticed immediately how LNG was a boost to our daily production," Rohde says. "Our hourly rate spiked from 15 to 17 trucks an hour; that's 10 percent more productive. On top of running more efficiently – LNG is improving profit margins too."
Mueller's enthusiasm is backed by the numbers, already realized and anticipated for next year.  In addition to improved efficiency, Mueller's saved over $10,000 in energy costs in the shortened season. And once Mueller converts its plant burner from diesel to LNG in 2014, company officials say that $10,000 in savings will be realized every week.
Another contractor, Brainerd-based Anderson Bros., completed its plant changeover to LNG and was pleased that it went "easier than we were expecting," says Rob Larson, who manages Anderson's 100-truck fleet and more than 220 employees.
Even with such a short time frame to measure LNG's benefits, Larson says he's already seeing a positive environmental impact. "It's the 80 to 90 percent savings in pollution emissions that caught our immediate attention," Larson says. "That's an amazing number. It's one thing to say you're running cleaner. Now we have the data that supports that."
Jeff May, Lube-Tech's General Manager of Energy Services, anticipates he'll hear more of the same from his customers in the years ahead.
"LNG is the new frontier in Minnesota energy, and we're delighted that our asphalt customers are already reaping the rewards," May says.
Particularly satisfying to May is that his customers are seeing LNG "drive profits while also being environmentally friendly. This represents a dramatic change in the efficient and energy-friendly way we're doing business here in Minnesota."