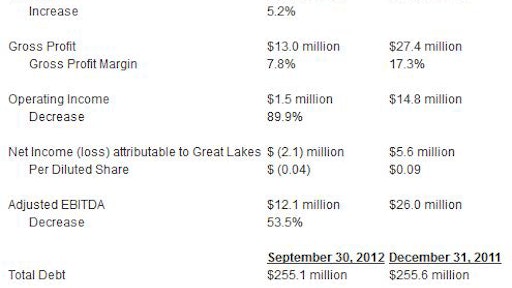 "We entered the fourth quarter with scheduled revenues and margin to achieve our previously stated annual goals," said Great Lakes Dredge & Dock's Chief Executive Officer Jonathan Berger, commenting at release of the company's third-quarter results. "Since then the epic Hurricane Sandy has had a significant impact on our expected results for the fourth quarter as we will have lost a total of 25 working days over seven projects because we were forced to move our dredges and support equipment to protected waters.
"We were able to ride out Sandy with minimal damage to our operating equipment and have gotten the projects back up and running quickly. We currently estimate approximately $6 million of revenue and $3 million of gross margin has been pushed into next year, and we will incur $3 million of additional one time expenditures in the fourth quarter due to the storm. We have therefore modified our projected full-year adjusted EBITDA [earnings before interest, taxes, depreciation and ammortization] range to $85 to $90 million.
"Hurricane Sandy has significantly affected coastal communities along the East Coast," Berger added. "As a company, Great Lakes' thoughts and prayers go out to each and every one of the individuals and families impacted.
"The dredging industry has performed beach nourishment and shore protection in these markets for decades. We have received positive reports that the Nags Head Beach in North Carolina weathered the storm well as a result of a large beach nourishment project we completed last year. We believe Hurricanes Sandy, Debby, and Isaac should result in increasing focus and demand for supplemental Federal funding critical for coastal restoration and beach projects in the Gulf of Mexico and on the East Coast.
"Our third quarter was challenging as our dredging segment utilization was impacted by Hurricane Isaac, which not only delayed four large dredging projects, but added costs and lowered expected margins on these projects," Berger continued.
"We were further impacted by projects that were bid later than expected. Also, $30 million in options on the projects in the third quarter were not awarded until the fourth quarter. This shift in revenue to the fourth quarter resulted in lower fixed-cost coverage and compressed gross margin in the third quarter. Although late bid award timing caused us a short-term challenge in the third quarter, the pickup in the domestic bid market late in the quarter positions us well for a strong fourth quarter and beyond.
"Approximately $134 million in projects were awarded to the company during the third quarter of 2012," Berger said. "These awards, along with the award of a $47 million project in the Middle East, helped drive total backlog up to $506 million.
"After several strong quarters, the demolition segment's results were negatively impacted by cost overruns caused by weather and scope changes outside those allowed to be reimbursed under the contract. These impacts lowered the demolition gross margin by over 9% and were limited to the third quarter. On a positive note, the demolition segment was awarded a $3 million power plant project in North Carolina prior to quarter end and another $12 million industrial demolition project in Ohio in October."
Great Lakes Dredge & Dock Corp. Q3 2012 Earnings Release
William Steckel, Great Lakes' senior vice president and CFO said, "We have prepared our equipment and personnel for the project workload planned in the upcoming quarter. As planned, we have experienced a significant increase in our working capital, and corresponding decrease in our cash this year. Two projects with the most significant investment are Wheatstone and the Scofield coastal restoration. Collectively we have invested nearly $40 million in these important projects that we expect to be monetized in 2013. We have a strong focus going forward on working capital management and generating positive cash flow."
Companies in this article