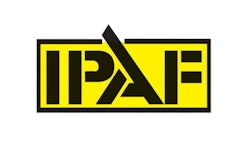 Close to 120 delegates attended the Europlatform access rental conference on Oct. 7, 2015 in Copenhagen, Denmark, with many saying after the event that this was "one of the best Europlatform conferences ever."
The strong lineup of speakers provided valuable advice for access rental businesses and looked at various strategic aspects under the theme of "Securing the Future."
Xavier du Boÿs, CEO of Kiloutou, set the tone in his morning keynote address on creating value in the AWP rental business. One key strategy he highlighted was to increase the lifetime of equipment.
"We create more value in renting than in selling equipment," du Boÿs said, adding that his company kept machines for as long as possible. "You can avoid refurbishment if you do maintenance during the life of the machine."
He also advised rental managers to correctly size their fleets, to find the best compromise between growth and profitability, and to put the quality of service into the price. "Propose the usual services such as transportation, cleaning and repairs; make them profitable," he said. "And dare to invoice for them."
Karel Huijser, general manager and vice president EAME, JLG, delivered an interesting and entertaining afternoon keynote speech that looked at competition and collaboration in the access industry and which included a tongue twister to illustrate the tangled web of access equipment manufacturing, distribution and rental.
Huijser encouraged the industry to "become ambidextrous" in the sense of collaborating with diverse suppliers who might at the same time be competitors. He gave an example of how JLG sells tracked platforms manufactured by Hinowa under the JLG brand in North America, but competes directly with the same company for market share in Italy.
He also gave insights into JLG's recent purchase of low-level access specialist Power Towers and explained how the major manufacturer seeks to manage the "suffocating index," i.e. balancing the operational and entrepreneurial streaks in the business to allow its smaller but highly innovative partner to continue to develop without unnecessary centralized control.
Excellent presentations were given by Nick Selley, group business development director, AFI, who discussed the role of customer service in driving a rental business forward; Petri Paavolainen, managing director, Dinolift, who looked at how digital technology is changing the access business; and Dino Leistenschneider, executive vice president – Sourcing and Fleet Management, Ramirent, who examined the fleet cost, or value, of ownership.
Delegates also got the opportunity to delve into more specific topics such as the Nordic truck-mounted platform market, covered by Søren Olesen, managing director, Danilift; and the Russian AWP rental market, presented by Denis Andreev, managing partner, Maxxim Aerial Platforms, and executive director, NAAST (Russian National Rental Association).
Euan Youdale, editor of Access International, provided an overview of global and European access rental trends, while Rupert Douglas-Jones, IPAF Research & Development, shared findings from IPAF's accident reporting project and showed how rental companies could reduce a third of accidents by adopting safety guidelines and training programmes on loading and unloading of machines.
The Europlatform conference is jointly organized by Access International and IPAF.www.europlatform.info