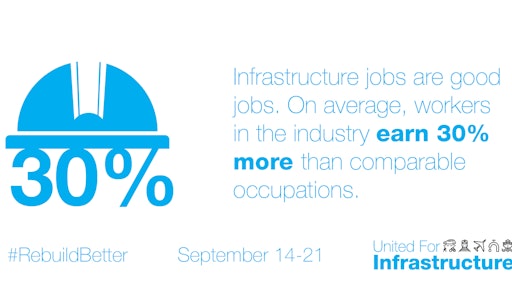 United for Infrastructure, formerly known as Infrastructure Week, is a nonprofit that advocates and educates policymakers and the public about the value of infrastructure. The week, which has largely become a joke in Washington as action on funding our infrastructure has been nonexistent, convenes a variety of experts to discuss the essential role of roads, water systems, airports, broadband and other infrastructure in citizens' daily lives, the economy, public health, and national security.
This year, amongst the chaos of the Coronavirus pandemic and the election, the event hopes to unite people for a common goal, rebuilding our crumbling infrastructure.
"When we look at the COVID-19 pandemic from a public health lens and from an economic lens, when we look at issues around systemic racism and inequality that are very much in the news right now, when we look at issues around climate change and hurricanes and wildfires and extreme events — all of those impact infrastructure, and infrastructure impacts our ability to respond and adapt to those things," Zach Schafer, executive director and CEO of United for Infrastructure, told Business Insider. "What do we need to do to build infrastructure moving forward that helps us meet the needs of the future?"
Importance of Infrastructure
Along with uniting industry stakeholders for discussions, the event also aims to raise awareness of the toll our failing infrastructure takes on taxpayers. 
For instance, the average American spends 97 hours a year in traffic because of inadequate roadways, that's the equivalent of 12 work days. Americans are also charged with paying over $500 in repairs on their own vehicles due to damage caused by failing roadways while inaction on infrastructure costs American families an additional $9 per day.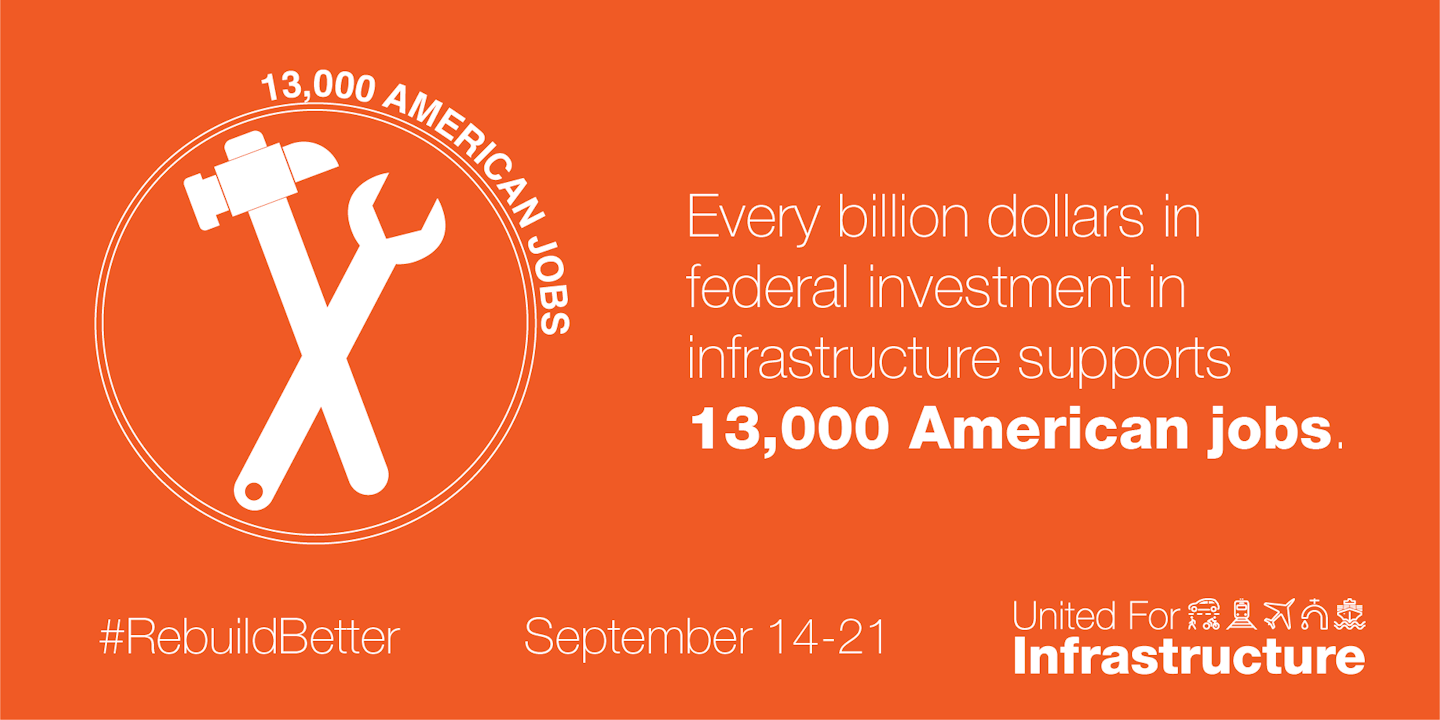 The event will also showcase the importance of both investment in our infrastructure and our workers. For every $1 invested in repairing our infrastructure, an average of $3.70 is generated for our economic growth.
While that's a great reason to fund our infrastructure, the campaign also wants Americans to know how important these jobs are. Every billion dollars of Federal money that is spent on American infrastructure supports 13,000 jobs and these are good jobs too. On average, workers in the industry earn 30% more annually than jobs in comparable occupations. 
Calendar of Events
Starting Monday September 14th, 2020, United for Infrastructure events will be held virtually with government officials, community organizers, business leaders, and other stakeholders. They will discuss issues facing our nation's infrastructure and work to create solutions to keep America's infrastructure going strong for future generations.
This year's featured sessions include the "#RebuildBetter the United for Infrastructure 2020 Kickoff Event" on Monday, September 14, featuring Maryland Gov. Larry Hogan, Los Angeles Mayor Eric Garcetti, US Chamber of Commerce CEO Tom Donohue, and others.
"Infrastructure, Race, and Equity" on Wednesday, September 16, will feature Rick Wade, vice president of strategic alliances and outreach at the US Chamber of Commerce, Katrina Badger of the Robert Wood Johnson Foundation's Healthy and Equitable Communities program, and several others to highlight how communities can use infrastructure to fight inequity and inequality.
On Friday, September 18, "Future Proofing America's Infrastructure for a Changing World" will together Majority Whip James Clyburn, Sen. Shelley Moore Capito (R-WV), former Transportation Secretary Ray LaHood, Oklahoma City Mayor David Holt, and many others to discuss the policy changes and investment needed to ensure the country's infrastructure is ready for the next 50 years.
Other Infrastructure Week events include the American Society of Civil Engineers Virtual Technical Conference 2020, "Future Cities: Government's Inside Track to 2020: Infrastructure" presented by Route Fifty, "Envisioning the Opportunity of Freeway Caps and Stitches: Atlanta, Austin, and St. Paul" by the Urban Land Institute, and "Infrastructure During a Pandemic" hosted by Washington Post Live and Siemens. Check out the full calendar of events.