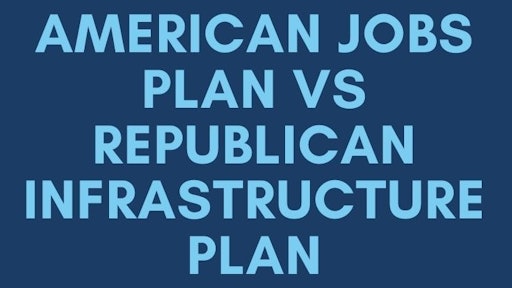 An infrastructure package proposed by U.S. Senate Republicans on Thursday is about a quarter the size of Democratic President Joe Biden's sweeping $2.3 trillion proposal and focuses narrowly on broadband access and traditional infrastructure projects. Here's the breakdown:
Roads & Bridges:
The GOP plan includes ongoing "baseline" spending of $260.5 billion for highways. 
The Biden plan is in addition to "baseline" spending levels.
Thus the increased in funding for roads is bridges is $115b over 8 years under the Biden plan and $39 billion over 5 years under the GOP plan. 
Broadband Access:
Republicans - $65 billion
Biden - $100 billion
Public Transit:
Republicans - $61 billion
Biden - $85 billion
Transportation Safety:
Republicans - $13 billion
Biden - $20 billion
Airports:
Republicans - $44 billion
Biden - $25 billion
Drinking & Wastewater:
Republicans - $35 billion
Biden - $111 billion
Rail:
Republicans - $20 billion
Biden - $80 billion
Ports & Waterways:
Republicans - $17 billion
Biden - $17 billion
Electric Vehicles:
Republicans - $0
Biden - $174 billion
Manufacturing:
Republicans - $0
Biden - $580 billion
School Construction & Repair:
Republicans - $0
Biden - $100 billion
Home & Community-Based Care:
Republicans - $0
Biden - $400 billion