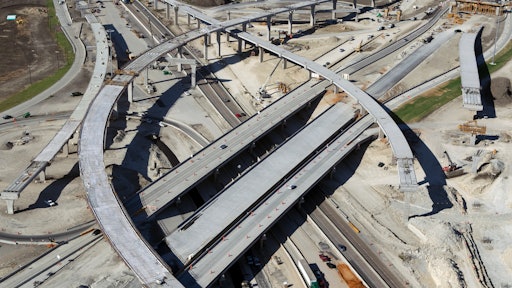 Jim Wilson | www.jimwilsonphotography.com
President Biden's American Jobs Plan is a sweeping plan that includes traditional surface transportation projects but also seeks to change the direction of the economy with an additional focus on fighting climate change and improving social programs rolled into one. The White House released a new proposal for Republicans to review.
In the new proposal that was introduced last week, the White House reduced spending by $600 billion compared to the original amount proposed in the American Jobs Plan. U.S. Senate Republicans are set to meet Tuesday to determine next steps for the bipartisan infrastructure plan.
Shifts and/or reductions of funding hit some key areas:
Roads, bridges and major infrastructure project funding cut to $120 billion compared to the original $159 billion in spending
Move manufacturing, research and development, small business and supply chain improvements from this package over to a separate legislation that is being debated in Congress
Reduce funding for broadband to $65 billion, which is the Republicans' originally proposed amount
How to fund this type of proposal is still up in the air, Biden plans to pay for the infrastructure portion by raising corporate taxes, while Republicans are seeking alternative methods including user-based fees and unspent coronavirus relief money.
The "soft deadline" for the infrastructure talks are nearing, end-of-May White House deadline, Republican lawmakers are set to meet Tuesday to discuss. Leading the Republican effort, Senator Shelley Moore Capito of WV said her team would discuss next steps but offered no details about options.
"I'm not ready to call it quits, I can tell you that," Senator Capito told reporters.
The clock is ticking, however, lawmakers could attempt to deliver a separate $303 billion surface transportation authorization bill to the floor, that would provide 34% more money than the five-year bill passed in 2015. The passage of such authorization bill, Surface Transportation Reauthorization Act of 2021 (STRA21), would allow states to move ahead with projects this year, instead of waiting in limbo.
Capito said the $303 billion transportation bill could be the bipartisan deal on infrastructure the Senate Republicans and White House administration officials have failed to iron out thus far.
Industry Urges Support for STRA21
As the Environment and Public Works Committee moves to debate STRA21, National Asphalt Pavement Association (NAPA) issued a letter to Tom Carper and Shelley Moore Capito in support for this bill, which would provide $303.5 billion over five years for surface transportation maintenance and improvements.
"NAPA has been very pleased to participate in bipartisan efforts to envision predictable and future-oriented funding for the nation's roads, highways, and bridges," said Audrey Copeland, Ph.D, President and CEO of NAPA. "We are very supportive of the Surface Transportation Reauthorization Act of 2021, including provisions we sought to keep pavement crews, and the travelling public, safe on our nation's roads."
The association is also in favor that the Committee is proposing to reauthorize the Accelerated Implementation and Deployment of Pavement Technologies (AID-PT) program, which advances the latest innovations, best practices and technologies for constructing and maintaining high-quality, long-lasting pavements.
"While the asphalt pavement industry is excited to rebuild America's roads, we're most committed to ensuring that the women and men on our pavement crews stay safe while performing this essential work," Copeland added. "NAPA is proud of our work in this area and grateful to see worker safety included in STRA21." She further expressed NAPA's support for ongoing neutrality in pavement type selection and reauthorization of the AID-PT program.
As the legislative conversations continue, Bookmark ForConstructionPros.com, to keep up-to-date on news affecting the industry.