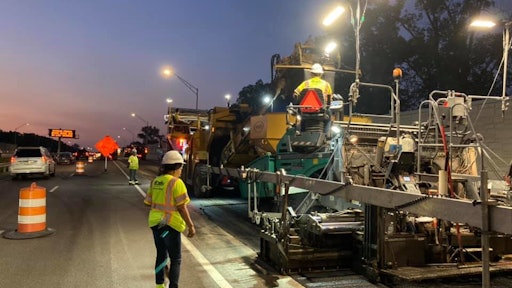 Jason Long/Facebook
According to the American Roads & Transportation Builders Association, the latest legislation unveiled in Washington would boost total investment for roads by 34 percent.  The Surface Transportation Reauthorization Act of 2021 (STRA), recently introduced by Senate Environment & Public Works (EPW) Committee Chairman Tom Carper (D-DE) and Ranking Republican Shelley Moore Capito (R-WV) sets a new baseline funding level at a historic high of $303.5 billion for Department of Transportation programs for highways, roads and bridges.
The legislation would grow Federal highway investment by $11.2 billion to $58.3 billion in FY 2022 (23.8 percent increase) for core highways and would distribute 90 percent of these funds by formula to states over its five-year life.
"Safe and reliable infrastructure is something every American can get behind," Capito said in a statement. "From the beginning of this process, I have expressed my desire to work together across the aisle to develop a bipartisan solution to address our nation's infrastructure challenges. Our bill unveiled tonight accomplishes this. Not only will this comprehensive, bipartisan legislation help us rebuild and repair America's surface transportation system, but it will also help us build new transportation infrastructure. These critical investments will help to provide economic opportunities now and for future generations. I look forward to continuing our work together to advance this legislation that will go a long way in improving our roads, bridges, highways and quality of life for all Americans."
Other key provisions of the $303.5 billion measure would:
Codify into law former President Donald Trump's "one federal decision" Executive Order that includes a goal of two years for major project reviews and a 200-page limit for environmental documents;  
Establish a performance measure for greenhouse gas emissions from transportation projects. Also directs the U.S. Department of Transportation and the Environmental Protection Agency to develop the data to be used in implementing such standards; and  
Provide dedicated funding to build out electric vehicle charging systems and expand current programs eligibility to support climate mitigation activities and emphasize resiliency to natural disasters.   
The prior authorization for surface transportation programs expired in 2020; Congress passed a one-year extension that will expire on September 30, 2021. This reauthorization STRA will be considered May 26 by the EPW Committee and the measure is expected to earn overwhelming approval. That puts the ball in the court of the other senate transportation committees to advance the remaining components of a surface transportation reauthorization bill. The Senate Finance Committee has begun deliberations on how to pay for needed transportation infrastructure improvements.         
You can see a full breakdown of proposed formula funding for your state here.