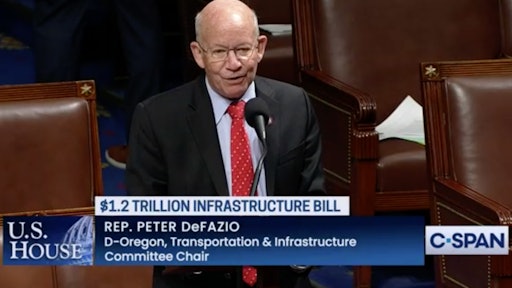 Once again just as federal funding was set to expire, The U.S. House of Representatives voted to extend government funding for another two months. Lawmakers voted 254-175 to send the bill, which keeps the federal government funded through Dec. 3, to President Biden for his signature. Thirty-four Republicans voted with all Democrats in support of the bill.
After that measure passed, the House was scheduled to take up the vote for the $1.2 trillion bipartisan infrastructure bill. For most of the day, lawmakers in both chambers continued to negotiate the plan to garner support for its passage.
House leaders spoke on the floor, expressing their support and concern for the bill which would provide much needed funding for our crumbling roads, bridges, waterways and more.
"Americans are tired of failing infrastructure," Peter DeFazio (D-RO) said. "Over 70% of Americans strongly support an investment in infrastructure and we need to deliver this bill to the country. This bill is not perfect, it's not the bill I would have written but this is the only option. It's this or nothing on the long overdue investment in infrastructure."
Liberal Democrats were confident this week that they had the numbers to block the bill. They hope their tactics would push moderates to support their top priority: a $3.5 trillion bill known as the Build Back Better Act which Democrats plan to pass through reconciliation. Republicans are also leery of supporting the infrastructure bill with it being tied to this broad spending package that will pass without their support.
"This bill is nothing more than a trojan horse for Speaker Pelosi's agenda," Sam Graves (R-MO) said. "This legislation would open the floodgates for $5.5 trillion in radical spending and the largest tax increase in our nation's history."
The legislation would expand the child tax credit and Medicare's ability to cover vision, hearing and dental care, fund community college and universal pre-kindergarten initiatives, combat climate change, and fund elder care and paid leave programs. The $3.5 trillion bill would be paid for, at least in part, by tax increases primarily on corporations and the wealthy.
Progressives said they would withhold their support on the bipartisan infrastructure package until moderates strike a deal with them on the Build Back Better Act.
As the day went on, it was clear the democratic party was deeply divided and House Speaker Nancy Pelosi made the decision to delay brining the vote to the House floor.
Pelosi's effort to pass the infrastructure bill was complicated by Sen. Joe Manchin (D- WV) who said Thursday he would support a much smaller, $1.5 trillion bill expanding the social safety net, and Sen. Kyrsten Sinema (D-AZ). The two moderate Senate Democrats met for about 45 minutes on Thursday evening, as they tried to find a way forward on both the infrastructure and Build Back Better plans.
With a split Senate and a slim hold on the House, Democrats are leveraging their power to make sure their colleagues support their bills, which comprise Biden's domestic agenda.
What Happens Next
More work will be done today to attempt to move this bill forward. The White House has emphasized that this is not the end of the road and that work resumes first thing today on negotiating President Biden's agenda.
In a statement Thursday, White House press secretary Jen Psaki responded to the news there will be no vote on the administration's infrastructure proposal tonight, applauding House Speaker Nancy Pelosi and Senate Majority Leader Chuck Schumer "for their extraordinary leadership."
"A great deal of progress has been made this week, and we are closer to an agreement than ever," Psaki wrote. "But we are not there yet, and so, we will need some additional time to finish the work, starting tomorrow morning first thing."
Senate Majority Leader Chuck Schumer (D-NY) said the Senate will reconvene at noon tomorrow, likely because the Senate has yet to address a potential lapse in surface transportation funding if the bipartisan infrastructure bill doesn't pass.
A funding extension would need to originate in the House. Both chambers can pass it quickly by voice vote.
Executives representing the freight industry, the business sector, construction firms, environmental groups and transit systems have pressed U.S. House lawmakers to approve the Senate-passed infrastructure measure.
"Our elected leaders are on the precipice of a historic investment in our nation's crumbling infrastructure," U.S. Chamber of Commerce CEO Suzanne Clark said. "Turning this long-overdue promise into a reality will grow our economy and strengthen our competitiveness for decades to come."
The American Association of State Highway and Transportation Officials expressed extreme disappointment in the delay.
"Yesterday's inaction on the Infrastructure Investment and Jobs Act isn't just disappointing—it lapses our highway, transit, and highway safety programs and halts work on vital transportation infrastructure around the country, which is detrimental to our economy and the quality of life of our communities," said Jim Tymon, AASHTO executive director. "We are dealing with very real repercussions. Thousands of federal employees at USDOT are being furloughed and $50 billion of federal surface transportation programs supported by the Highway Trust Fund are being suspended. This is unacceptable.
"State departments of transportation need a robust, long-term surface transportation bill in order to plan out and deliver critical transportation infrastructure projects across the country. Failure to deliver this bill has a direct impact on jobs, the transportation industry, and the broader economy and ultimately delays the mobility and quality of life benefits that are realized with this kind of investment. AASHTO implores the House of Representatives to pass the IIJA—which provides five years of funding stability for highways, transit, and passenger rail programs—as quickly as possible to allow state DOTs to continue their work in delivering a safe, efficient, and multimodal transportation system for the communities they serve."