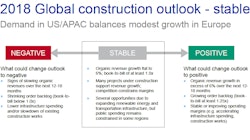 Moody's 2018 global construction outlook is stable thanks to rising demand in the U.S. and APAC, which will offset slow growth in Europe over the next 12 to 18 months. "While low interest rates will fuel infrastructure spending and private investment, boosting sector-wide revenues by up to 6%, competition will tighten margins," says Goetz Grossmann, Assistant Vice President – Analyst at Moody's and lead author of the report.
The report anticipates moderate growth expectations in the United States. According to Moody's report, the U.S. should expect growth in the mid-single digits with competitive market conditions limiting margin upside. Residential construction should grow at a moderate pace driven by low interest rates, healthy job creating and low debt service rations. Inventory shortages will limit the upside.
Nonresidential construction should continue its gradual recovery, but growth could accelerate supported by $305 billion in transportation funding and additional state and local government infrastructure investments.
Canada should also expect modest growth with competitive conditions limiting margin upside. Canada's residential construction growth will likely slow to a more modest pace due to new mortgage rules, capital gains tax changes, rising interest rates and reduced affordability due to higher home prices. Canada's nonresidential construction should begin to recover along with commodity prices and infrastructure investment.