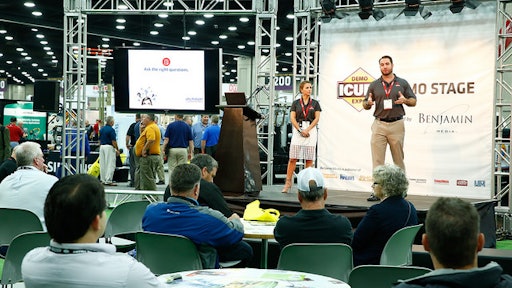 Attendees at ICUEE 2017 will be able to see industry best practices illustrated first hand with equipment on the show floor during new "field classroom" education sessions. These walk-around sessions will use the show floor, instead of PowerPoint presentations, to provide an overview of topics geared for those new to the industry. Ten 90-min. sessions will focus on aerial devices, fleet management, high voltage transmission technology, horizontal directional drilling, and vacuum excavation.
ICUEE, the International Construction and Utility Equipment Exposition will take place October 3-5, 2017 at the Kentucky Exposition Center in Louisville, KY. More than 75 expert-led sessions at ICUEE 2017 will help utility and construction industry professionals, from novice to veteran, enhance their safety knowledge, increase efficiencies and reduce downtime on the job.
"Education really ramps up the value of ICUEE for attendees; they have convenient access to a variety of quality industry-focused sessions to gain knowledge that improves their job performance and helps their companies succeed," said Rick Rodier, ICUEE 2017 chair and vice president and general manager of the Sitework Systems Division of The Toro Company.
Also new for 2017 is a "Discover ICUEE" behind-the-scenes walking tour just prior to show opening (October 3 from 7:30-8:30 a.m.). Attendees will receive a comprehensive show overview to help them maximize their time onsite and make the most of their ICUEE experience.
Rounding out the education lineup are popular returning programs: the Utility Safety and Utility Fleet conferences and the indoor Demo Stage.
The indoor ICUEE Demo Stage, presented by Benjamin Media Inc., expands the show's outdoor equipment demonstration component. More than 20 fast-paced 20-min. exhibitor presentations will feature product innovations and best practices in action. No registration is required. Just stop at the stage on the show floor (near the entrance to South Wing B) during show hours .
The iP Utility Safety Conference is a leading education event that will gather utility safety and/or operations professionals from across the country, starting Monday, October 2, for three days of education and networking.
At the Utility Fleet Conference, fleet managers, fleet maintenance teams, fleet operators and aspiring fleet leaders will gather starting October 2, for three days of insights on maximizing fleet efficiencies. Sign up for individual sessions to customize your learning experience.
Available Industry Certifications will include:
Certified Utility Safety Professional (CUSP) certification program, the only program that offers safety credentials to utilities, related contractors and communication providers

National Commission for the Certification of Crane Operators (NCCCO) written and recertification exam administrations for those seeking to become CCO-certified or renew their certifications in most CCO programs will also be available – and check out hands-on demonstrations of the practical exams at the NCCCO Lift Safety Zone returning to ICUEE
Register for ICUEE by August 25 to receive 50% off the onsite registration fee. For more information and to register, visit www.icuee.com.
Companies in this article