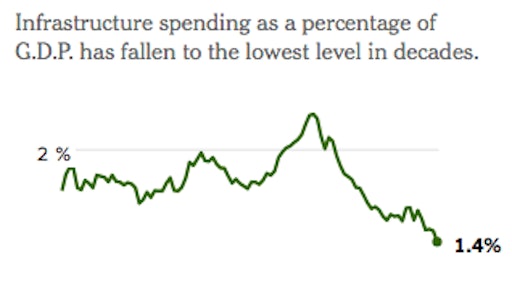 New York Times
Despite lots of talk about infrastructure spending, federal funding and spending on transportation and other public works continues to decline. In fact, infrastructure spending was only 1.4% of the nation's economic output in the second quarter of 2017 — that's the lowest level on record according to Census Bureau data.
According to an article in the New York Times, spending on government construction projects was lower in 2016 than in 2007 in 34 states. Public construction spending in June 2017 was 9.5% lower compared to June 2016.
On a positive note, thanks to stornger activity in the private sector total construction spending has climbed above the prerecession peak.
(more on the continuing decline in federal infrastructure funding...)