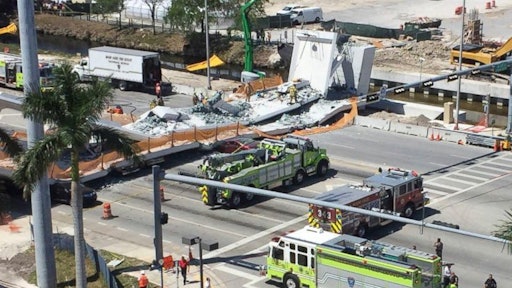 ABC News
Two of the biggest firms that built the Florida International University pedestrian bridge that collapsed on March 15th have recently been accused of unsafe practices. In one of those cases, another bridge project toppled onto workers.
It's reported that multiple people have died in the rubble of the 950-ton bridge, which crumbled onto SW Eighth Street traffic. Investigators will likely spend weeks sorting out what went wrong on the project, which was described by the school as a state-of-the-art bridge made with new, high-tech materials.
Munilla Construction Management, a South Florida firm, beat out three other finalists to win the bid to build FIU's bridge, which was part of a $14.2 million project funded by the U.S. Department of Transportation. The firm partnered with Figg Bridge Group, which is headquartered in Tallahassee and has worked on iconic projects such as the Sunshine Skyway Bridge in Tampa.
Munilla was accused in Miami-Dade Civil Court March 5 of severely injuring a TSA employee at Fort Lauderdale-Hollywood International Airport because of shoddy work. According to the lawsuit, Munilla — which has a major contract to expand the airport — built a "makeshift bridge" through an area where airport workers must walk to reach restrooms.
Jose Perez, a TSA worker, was walking on the bridge October 20, 2016, when it "broke under [his] weight" and sent him falling to the ground.
The FIU project isn't the first major bridge built by Figg to collapse in recent years. A Figg-assembled span in Virginia fell apart in June 2012 while under construction. Workers were installing a 90-ton concrete portion of the South Norfolk Jordan Bridge when it dropped 40 feet onto railroad tracks below, according to the Virginian-Pilot.
Four workers suffered minor injuries, but state regulators later said it was pure luck that no one was killed.
Read more from Miami New Times.