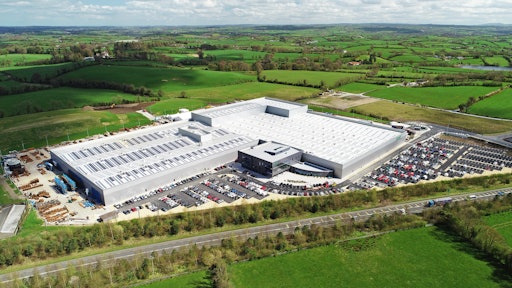 Comblift announced the official opening of its new €50 million, 500,000-sq.-ft. global headquarters and new manufacturing facility in Monaghn, Ireland. The company is also celebrating its 20th anniversary of lifting innovation.
The new purpose–built factory is set on a 100-acre site with room for expansion. With 11 acres of roof space, it is one of the largest manufacturing operations under a single roof in the Republic of Ireland. Incorporating the latest manufacturing processes with a focus on sustainability, the new factory will enable Combilift to double its output in a single shift across all production lines.
Established in 1998 by Martin McVicar, Managing Director and Robert in Moffett, Technical Director, Combilift is a privately held and fully capitalized company. It developed a multidirectional all-wheel-drive IC engine powered forklift in 1998. In its first year of operation, Combilift produced 18 units, 17 of which were exported. The company currently exports 98% of its products to 85 countries through its 250-strong international dealer networ, and now has 40,000 units in operation globally.
Combilift's product portfolio has expanded beyond its first multidirectional Combilift. "As a company, Combilift has always focused on a number of niche market segments and has a proven track record of launching one to two new products annually," said McVicar. "In the first 10 years Combilift concentrated on the long load material handling sector. The Combilift multi-directional forklift revolutionised the handling of long materials as it allowed customers to handle long products in less space more safely.
"Between 2008 and 2018 Combilift diversified its product ranged by developing a number of innovative space-saving warehouse and heavy load handling products - the Aisle Master articulated truck and the Straddle Carrier (Combi-SC) respectively," he continued. "Combilift entered the pedestrian forklift market with the introduction a number of unique products (Combi-WR and Combi-CS) in the last 5 years, which benefit from its patented multi-positional operator tiller arm technology."
Combilift sees a growing demand for pedestrian trucks, driven by safety concerns where customers and/or employees are in the vicinity of operating forklifts. "It is Combilift's intention to significantly expand its pedestrian forklift range, as can be seen with the launch of the high lift capacity Combilift Powered Pallet Truck (Combi-PPT)," said McVicar.
"The flexibility in our new facility means that Combilift can continue to accommodate any customer request for a customized material handling solution," he added. "The new factory enables us to double production and remain focused on the needs of our customers and dealers. We have become much more than a forklift manufacturer and are transforming the transport and logistics sector with our innovative, space-spacing products."
Combilift is investing in its workforce, as well, adding a considerable number of high-level employment opportunities for skilled technicians, design engineers, logistics and supply chain specialists and those with mechanical and electrical mechatronics skills.
"The investment in people will enable Combilift to meet its ambitious growth plans," said McVicar. We have employed an additional 230 people since we announced our plans for this factory in 2015. The combination of this state of the art production plant and a skilled workforce will allow us to double production within the next 5 years."