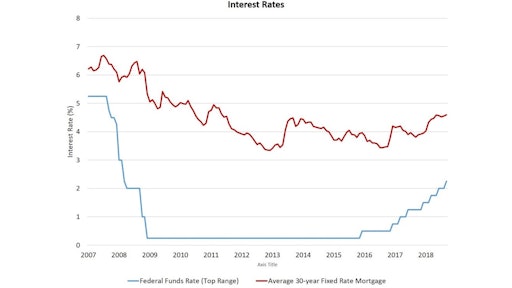 National Association of Home Builders
At its September meeting, the Federal Reserve's Open Market Committee raised the short-term federal funds rate 25 basis points to a range of 2% to 2.25%. After the third rate increase of 2018, markets and forecasters are confident that an additional 25 basis point increase will occur in December.
"Our economy is strong, growth is running at a healthy clip, unemployment is low," Fed Chairman Jerome Powell said at a news conference. "This is a good moment for the U.S. economy."
The Fed on Wednesday also upgraded its projection of annual economic growth to 3.1% of GDP.
The change in monetary policy occurs as the 10-year Treasury rate, which generally moves in tandem with the 30-year fixed rate mortgage, settled in above 3% over the last two weeks.
The general rise in interest rates has increased the cost of borrowing to a seven-year high. It's not surprising, as the Fed had held the federal funds rate near zero since 2008 in response to the financial crisis. This week's increase is the eighth since the Fed began to lift rates in late 2015. The Fed considers the current rate to be lower than average, positioned to stimulate the economy.
"These rates remain low," said Powell. "This gradual return to normal is helping to sustain this strong economy for the longer-run benefit of all Americans."
For housing markets, the higher rates paid on mortgages combined with the rise in housing prices, has pushed housing affordability to a 10-year low. As a result, housing markets will see continued slowing in price appreciation.
However, it is important to keep in mind that the Fed has increased the federal funds rate because the economy is performing well. Labor markets are tight and income growth is picking up. And inflation is near the Fed's target rate of 2%. Indeed, the Fed's increase in the funds rate also resulted in a dropping of the text noting that current monetary policy is "accommodative." While Fed Chairman Powell played down this classification change, it nonetheless marks the Fed's move as another step to a neutral rate.
Today's Fed action is consistent with National Association of Home Builders' forecast of one additional rate hike in 2018, three more in 2019, and perhaps one more in 2020, depending on the degree of macroeconomic slowing in late 2019. These policy moves will cause the 30-year fixed rate mortgage to gradually rise to above a 5% rate in the months and year ahead.