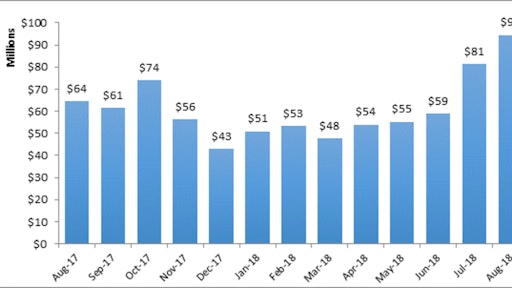 Wisconsin farmers, manufacturers and business owners joined Tariffs Hurt the Heartland, a nationwide grassroots campaign against tariffs, at a town hall today to unveil new economic data detailing the impact of tariffs on Wisconsin's economy. The data, compiled by the Trade Partnership, shows that tariffs cost Wisconsin businesses almost $95 million in August alone. That represents a 47% increase in tariff-related costs since the same point last year — even though the value of imports only increased 13% over that period.
The town hall meeting, which took place at Husco International in Waukesha, featured panelists representing numerous critical sectors of Wisconsin's economy, including small businesses, manufacturing, agriculture, brewing, restaurants and hospitality. Sen. Ron Johnson (R-WI) was also in attendance. A webcast of the event can be viewed here. 
"Today's discussion showed the real-world impact that the administration's tariffs have had on Wisconsin businesses," said Dennis Slater, President of the Association of Equipment Manufacturers. "Our industry and its 1.3 million workers aren't alone when it comes to the damage the tariffs have caused. It's clear these tariffs hurt our economy and they hurt U.S. workers. Equipment manufacturers want to work with the administration to strengthen America's trade position, but we need policies that open up foreign markets not ones that tax Americans."
"Wisconsin farmers greatly benefit from trade," said Wisconsin Farm Bureau President Jim Holte. "Wisconsin Farm Bureau has been a long-time supporter of open markets and fair trade because our farmers can and should be able to compete in a global market place. Unfortunately, the ongoing retaliation tariffs are causing even more heartburn for our already burdened farmers."
Tariffs Hurt the Heartland is backed by over 100 of the nation's largest trade organizations that represent thousands of workers and businesses across the country. The campaign recently released an interactive searchable map (TariffsHurt.com) that allows users to find stories across the country of how tariffs are impacting local communities. 
Companies in this article