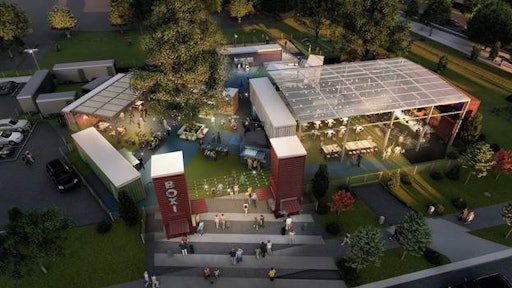 Tavistock
SG Blocks, Inc., a leading designer, fabricator and innovator of container-based structures, is collaborating with Tavistock, the developer of Lake Nona, to build Boxi Park at Lake Nona. Boxi Park, Central Florida's first outdoor entertainment venue built with repurposed shipping containers, will feature various food and beverage options along with an outdoor stage, fenced dog park, beach volleyball courts and a recreational area for children. SG Blocks is designing and prefabricating 14 containers and will work with a local contractor for installation. Boxi Park is expected to open by the end of 2018.
"Boxi Park will bring a vibrant entertainment space to the region, meant to service both the local community and those visiting the area," stated Paul Galvin, Chairman and CEO of SG Blocks. "We are thrilled to be working with Tavistock on this eco-friendly, sustainable park, which will be built in record time and soon open to the public."
"SG Blocks' use of shipping containers for construction allows us to create a unique, destination-worthy entertainment venue in Lake Nona that's an entirely new concept for Central Florida," stated Jessi Blakley, Senior Director at Tavistock. "The team truly understands our vision and we are excited to partner on this one-of-a-kind development."
Boxi Park will include curated food and beverage options with each container showcasing a different cuisine in addition to two full-service bars and a beer garden. Acting as an incubator for dining options, Boxi Park will bring fresh food and beverage concepts to Lake Nona's growing Town Center. The park's unique temporary structure allows the containers to be moved as the Town Center expands.
Orlando's Lake Nona is one of the fastest growing communities in the U.S. The 17-square-mile community features intricately designed neighborhoods along with world-class educational, sports, retail, entertainment, recreational and work facilities. Lake Nona is committed to building an innovative community focused on sustainable design, healthy living and groundbreaking gigabit fiber optic technology.