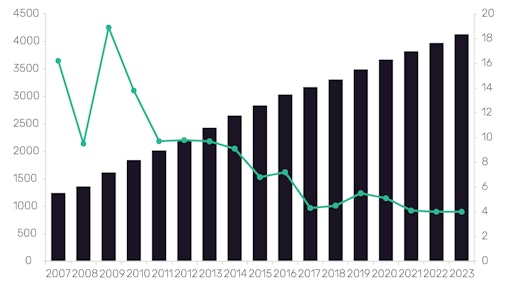 GlobalData
The heady days of double-digit growth in China's construction industry have long gone and the industry's expansion will remain on a general slowing trend over the next five years to 2023, according to GlobalData, a leading data and analytics company. 
Construction machine makers brace for weaker China sales as economy slows
Construction activity in China grew by 6.1% year-over-year in the fourth quarter of last year, pushing growth for the year as a whole up to 4.5%. Although this was a marginal improvement on the 2017 outturn, the pace of expansion in 2018 was still a relatively sluggish performance for the industry as a whole.
Reflecting the weak performance in the buildings sector, the total floor space of buildings completed dropped by 1.3% in 2018 compared to the previous year's total.
Danny Richards, lead economist at GlobalData, says: "With the authorities taking steps in recent years to rein in excessive debt-driven investment in infrastructure and urban development that had resulted in excess capacity in infrastructure and industry, and oversupply in real estate, the industry is not expected to return to the boom years of double-digit growth."
But in a heavily managed economy such as China's, the government can reverse policy direction relatively quickly. In view of the slowdown in the property markets across the country, local authorities are likely to attempt to reinvigorate demand by relaxing measures that had been imposed to avoid overheating in the market.
The authorities can also revert to infrastructure investment to prop up the industry and support the economy when necessary. In October 2018, for example, the State Council issued guidelines on increasing investment in various types of infrastructure, notably railways, roads, waterways and airports.
These policy changes are expected to ensure that annual construction output growth does not slow too much, remaining around the 4.5% level in the next five years, with the potential for slightly higher growth in 2019-2020 if new infrastructure projects move to the construction phase without delay, says GlobalData.
Richards concludes, "The construction industry's performance will continue to reflect the ongoing struggles of China's policymakers to deal with the challenge of supporting the expansion in the economy, while limiting the financial risks associated with excessive fiscal and monetary stimulus."