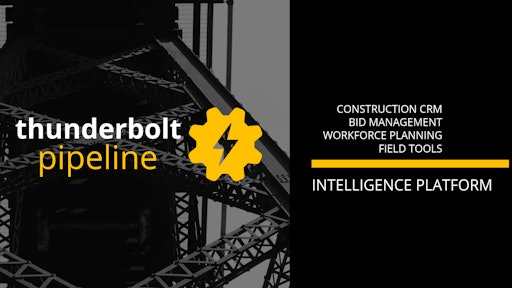 Thunderbolt Innovation, a Dover, NH-based construction software company, has been selected as a winner of the CEMEX Ventures Construction Startup 2019 Competition. Top international companies and investors will travel to Mexico for the CEMEX Ventures Pitchday in July to meet the winning startups of the competition. Thunderbolt Innovation CEO Sean Hussey and CTO Kevin Allen will present their end to end intelligence platform which uses AI and Machine Learning to reduce risk and allow pre-construction teams to bid more competitively.

The Construction Startup Competition awards innovative construction startups that foster the transformation of the industry. Thunderbolt Innovation is one of 10 startup winners selected from a field of 500 worldwide companies projects.
"We're thrilled to bring our solution to an international platform made up of industry experts and investors," Hussey said. "It's essential that a start-up company like ours gets this type of audience and opportunity so we stay competitive with some of the big players in our space. We're grateful to CEMEX Ventures. Being selected as a winner from a field of 500 candidates brings energy to our whole team. Mexico here we come!"

Thunderbolt Innovation will present its Pitch on July 18 in Monterrey, Mexico. Thunderbolt Innovation was previously awarded $100,00 in investment capital in 2017 from Millworks II, a NH-based venture fund.