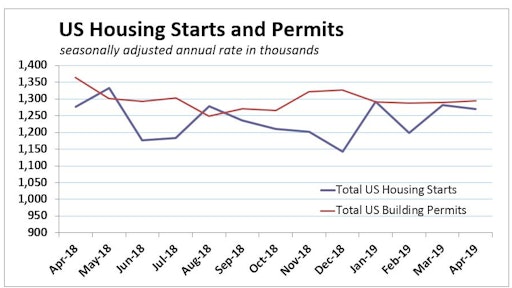 Data: U.S. Commerce Department
Total housing starts dropped 0.9% during May, more than doubling the slide predicted by economists' consensus forecast. Monthly housing-construction estimates by the U.S. Commerce Department show a 10.9% rise in volatile multifamily starts was not enough to offset a 6.4% decline in single-family units.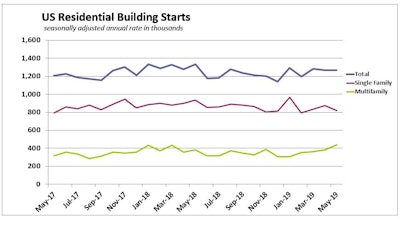 The report follows a drop in U.S. home-builder confidence in June, as builders reported concerns over rising construction costs and trade issues.
Total starts in 2019 are 5.3% below the same period of 2018. But residential building continues to be fairly solid. The 1.269 million-unit pace hit in May is slightly above the 1.222 million-unit pace averaged over the past six months.
Starts for both March and April also revised higher, and now show 6.8% and 4.4% monthly gains, respectively.
A 0.3% rise in total building permits during May also provides some cause for optimism. Single-family permits rose 3.7%, which ends a five-month streak of monthly declines. Multifamily permits declined 5.0%, however the overall number of new permits remains elevated.
The gain in permits along with more favorable buying conditions points to gradually improving activity over the summer. But lower mortgage rates are not expected to fuel a surge in residential activity.
"We believe even the latest drop in mortgage rates, which has seen rates on conventional 30-year mortgages fall below 4%, will not be enough to overcome the rising anxiety among potential homebuyers who sense that lingering trade tensions are putting economic growth at risk," according to Wells Fargo Economics' analysis of the monthly Commerce Department housing estimates. "We are still looking for modest gains in home sales and housing starts this year. But rather than igniting a resurgence in home buying, lower mortgage rates will merely cushion the blow from slower global economic growth.
'We now expect the Federal Reserve to cut interest rates twice this year, most likely in July and October.' Wells Fargo
"With growth slowing, interest rates have fallen substantially over the past month and the yield curve has fully inverted, with both the yield on the 10-Year and 2-Year Treasury Note falling below the federal funds rate. We now expect the Federal Reserve to cut interest rates twice this year, most likely in July and October. The interest rate for a 30-Year conventional mortgage has fallen below 4% and is more or less expected to remain there through the end of next year."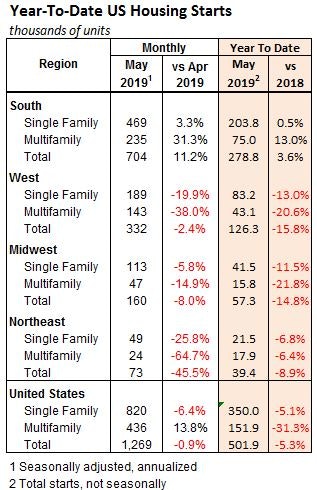 A 30-year fixed-rate mortgage averaged 3.82% for the week ended Thursday, according to Freddie Mac, near historic lows and down from 4.62% a year ago.
The South was the lone region to register a monthly gain on a seasonally adjusted basis. Wet weather so far this year, which has included floods in the Midwest and heavy rain in the South, may be skewing the seasonal adjustment process.
On a not-seasonally adjusted year-to-date basis, activity still appears strongest in the South, which shows starts running 3.6% ahead of the same period last year. Starts in the West, where builders have been offering significant discounts to clear inventories, are down 15.8% year-to-date. Homebuilding in the Midwest continues to be negatively impacted by flooding, and starts are running 14.8% behind the same period last year. The Northeast, which is the smallest region for homebuilding and tends to be very volatile month-to-month, is 8.9% below last year's level.
The stumble in housing starts during May mirrors a small decline in builder sentiment during June. The National Association of Home Builders' Housing Market Index, a measure of builder confidence, fell two points in June to a still-solid 64 after hitting a seven-month high in May. Builders were likely slightly discouraged by the prospects of an escalating trade war, which threatens to drive up prices on an assortment of new building materials, home décor items and furniture produced in China, such as floor tiles, kitchen cabinets and light fixtures.
Potentially higher building costs would add to sharply rising labor costs brought on by a continued scarcity of qualified workers. Amid widespread labor shortages and an overall subdued pace of construction activity, hiring in the construction industry appears to be slowing. Total construction payrolls expanded just 4,000 jobs during May, a 3.0% year-over-year gain. The residential building subsector declined 100 jobs, and has posted a net 2,900 decline over the past three months.