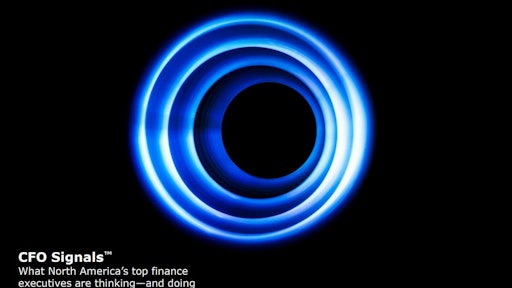 According to the CFO Signals quarterly report conducted by Deloitte Development, LLC, CFOs' assessments of the North American, European, and Chinese economies has continued to decline, and own-company optimism fell to its second-lowest level in three years. CFOs expressed strong concerns about US political turmoil and the impact of trade policy on global economic growth. Talent concerns continue, as well, with a new focus on rising labor costs.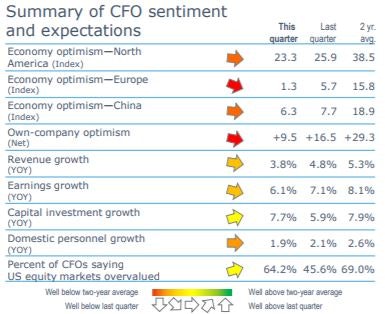 This quarter the survey asked about the expected severity and duration of any downturn that might occur by the end of 2020. About 80% of CFOs said they expect any downturn to be mild, and about half of those said they expect a short duration (less than 5% expect a sharp, prolonged downturn). These expectations may help explain why, even as CFOs' expectations for revenue, earnings, and hiring growth continued to decline this quarter (all sit at two-year lows), their expectations for capital spending continued to rise — a phenomenon evident last quarter, as well.
Key developments since the Q1 2019 survey affecting the outlook include:
US first quarter GDP growth appeared strong; consumer spending rose and inflation remained muted.
The US yield curve inverted.
The US Fed said corporate debt and high asset values pose financial system risks; it kept rates steady.
The US raised tariffs on China and China retaliated.
Economic data from China indicated that growth is stabilizing (but still at the slowest pace in 27 years).
Global trade volume fell for the first time in a decade.
The S&P 500 rose 3.8% since last quarter's survey.
Canada's employment grew at the best rate on record.
Mexico's economy contracted in the first quarter.
USMCA passage remains uncertain due to conflicts over continuing US tariffs on steel and aluminum.
European economic growth rebounded in 1Q19; inflation accelerated and unemployment declined.
The EU gave the UK a six-month Brexit extension.
The Brookings Institute said the global economy appears headed toward a synchronized downturn.
CFO Signals has tracked the thinking and actions of CFOs representing many of North America's largest and most influential companies each quarter since Q2 2010. All respondents are CFOs from the US, Canada, and Mexico, and the vast majority are from companies with more than $1 billion in annual revenue.
Click here to view the full Q2 2019 report.